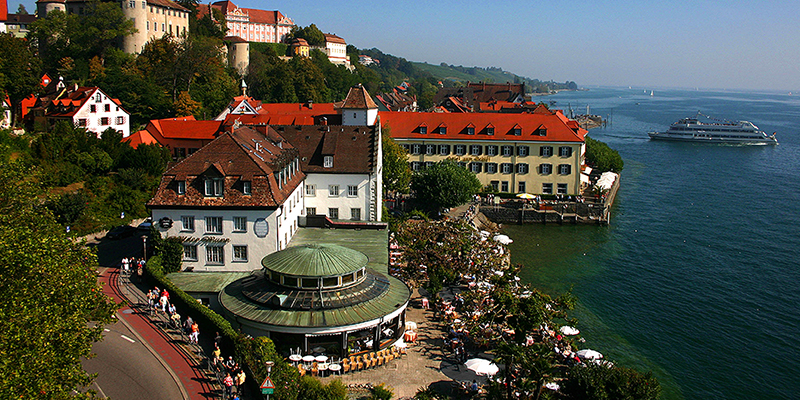 Lake Constance Meersburg. Photo credit: IBT Achim Mende
Lake Constance is where Austria, Germany and Switzerland meet, mingle and bedazzle. From Swiss sophistication to Bavarian feasts, it's a bewitching Alpine playground. I'm here for the ferry-hopping and country-crossing, sampling a succession of European greatest hits but without turning it into a slog, Tour de France-style.
Four countries in a day?
If keen on counting off countries, you could wake up in Switzerland, hop on a ferry to a German island and be in Austria in time for tea, complete with apple strudel and Alpine views, of course.
That's the beauty of Lake Constance.
Set snug against four borders, Lake Constance is where Austria, Germany and Switzerland cosy up together. That's not forgetting landlocked Liechtenstein, a pocket-sized principality with the bank balance of a far bigger country, and more companies than citizens. This sea-like lake, known as Bodensee in German, is the third largest in Central Europe and presents itself as a unifying force, blurring borders and bringing citizens together.
I'm here on a whistle-stop tour that combines summery Alpine scenery, steamers and trains. The Swiss trains, in particular, promise slick service and chocolate-box scenery. This may be classic lakes-and-mountains scenery but at its chilly heart lies a cobalt lake ready to be criss-crossed by nostalgic steamers. Around the lake I've been promised cute cable cars and apple orchards, lakeside lidos and palm trees, and enough vineyards and breweries to slake my thirst.
Before me is an Alpine montage straight out of Heidi: doe-eyed maidens lead cows with clonking bells. The hills are alive with yodelling. It's cheesy Appenzellerland, where angelic blonde goatherds are dressed in red waistcoats embroidered by milkmaids.
Visiting a cheese dairy is the top activity, along with purchasing hand-carved milk pails. Heidi clones come with the territory – an Alpine milkmaid even checks me into my hotel and bribes me with her grandfather's cheese.
It feels like a time-warp Swiss Disneyland but lies just outside smooth St Gallen, a town run like clockwork by tech titans. This bemusing juxtaposition of tradition and technology is not simply Swis s but typical of Lake Constance country.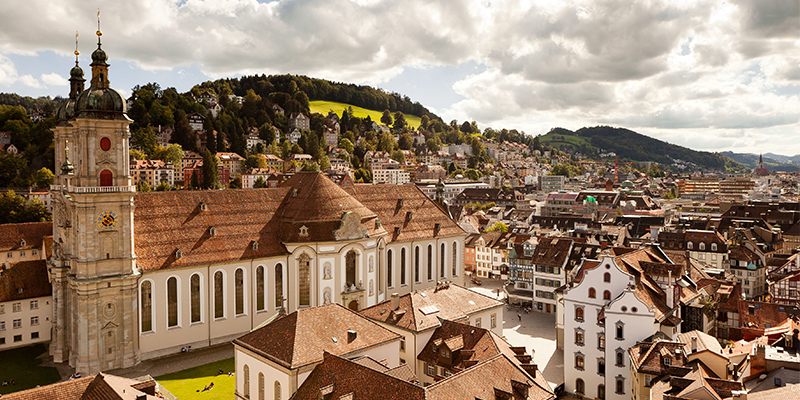 St Gallen Old Town. Photo credit: St Gallen Tourism
St Gallen – for smooth Switzerland
Set just south of the lake, St Gallen is Switzerland for beginners. This booming high-tech city is centred on a fairy-tale Old Town that feels like a Swiss village. It's sophisticated and civilised but, in true Swiss style, envelops visitors in an invisible comfort blanket. St Gallen's charming orderliness means that everything runs smoothly, from the trains to the terrace cafes.
The Old Town is a well-tended parade of half-timbered mansions, terracotta rooftops and cobblestoned alleys. Peppered with oriel windows and painterly facades, the town is impossibly picturesque. The chocolate-box architecture looks even tastier than the local chocolates. Still, there is no escaping the sensation that we visitors are wrapped as tightly as a box of Swiss chocolates.
It takes the abbey district, a Unesco World Heritage site, to shake off any sense of cosy predictability. The barnlike cathedral is the centrepiece of one of the last great Baroque monastic complexes in Europe. Surrounded by lush lawns and singled out by twin towers, this is a heart-stopping Benedictine abbey, as important for its symbolism as for its majesty.
The abbey began as the simple hermitage of St Gall, founded by an Irish monk in 612 AD. Over its 1400-year history, the site slowly turned into one of the greatest centres of European learning. It achieved such a feat while much of the rest of Europe were still stuck in the Dark Ages. The slightly eerie interior is resolutely late Baroque, studded with ornate trailing foliage carved in green malachite. If the landscape around St Gallen has echoes of sweet Heidi, this is more of a scary tale by the Grimm Brothers.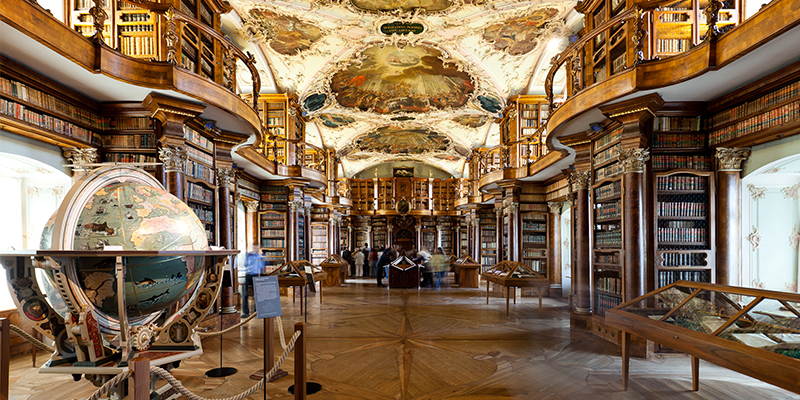 St Gallen Abbey Library. Photo credit: St Gallen Tourism
The Abbey Library, Switzerland's most magnificent Rococo building, is more amazing still. I tread creaky parquetry floors to admire ceiling-high stacks of hand-bound leather books that teeter on walnut-panelled shelves. The gilded chamber is adorned with celestial murals and stuccoed cherubs.
This library was the scriptorium where Benedictine monks slaved over illuminated manuscripts. Samples of priceless medieval manuscripts are on display, with some over a thousand years old. This chamber of wonders also reveals a richly-decorated Egyptian mummy and a 16th-century globe of the known world. St Gallen has upped the cultural stakes considerably and I stand chastened.
Drinking in culture
My saunter through the Old Town chances upon opera in the abbey courtyard. Hot summer nights also bring gypsy jazz bands, classical quartets, puppeteers and mime artists to these cobblestoned streets. Never let it be said that Switzerland is boring. In this jolly Swiss burgher town, sausage-sellers and accordionists compete for custom: the sausages win out as mustard-slathered veal bratwurst is clearly the local drug of choice.
Hipsters at the chic Continental cafes look over enviously at strollers munching slightly obscene-looking bratwurst. Time for a `Weisser Engel' beer, produced by the local Schutzengarten brewery, the oldest in Switzerland. The setting is a Swiss take on a German weinstube or British pub.
This being Switzerland, even the pubs are posher, first-floor taverns set in gabled merchants' houses with Gothic leaded windows. The medieval merchants' houses were built from profits from the textile trade. As such, the show-off oriel windows were as much a status symbol as a Swiss watch is today.
What's more, St Gallen embroidery is still a major money-spinner. From Pippa Middleton's wedding dress to sexy lingerie featured in Fifty Shades of Grey, the Swiss fashion industry is full of surprises.
With its hint of caramel and hops, my `White Angel' of a wheat beer slips down more easily than the price. My only beef about Switzerland is the sky-high prices: a decent ice cream can cost the same as a basic meal back home while the return train fare from Zurich airport to St Gallen costs more than my flight.
That said, the dreamy lakeside vistas are free and the peacefulness is priceless. My Lake Constance Pass makes it all affordable, covering ferries and free or discounted excursions in all the countries bordering the lake. What's more, when ferry-hopping to the next land is so simple, lake-lovers can simply sail away to a cheaper country, if only for lunch. Lindau, a quaint German island, is next on my wish list: it's Germany against Switzerland.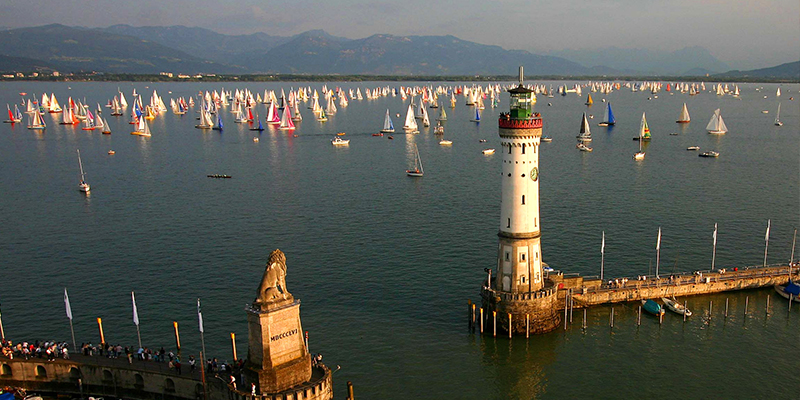 Lindau harbour. Photo credit: Achim Mende www.lindau.de
Lindau – the Bavarian Riviera
From St Gallen it's a short train journey to Rorschach, the closest Swiss port, and a leisurely steamer to Lindau, `an island where linden trees grow.' My steamer chugs into Lindau Harbour and a view stretching from the Bavarian waterfront to the Austrian Alps. In summer, balmy Lindau becomes `the Bavarian Riviera,' with its sun-lapped shores, swaying palms and lakeside lidos.
The harbour is guarded by a `new' lighthouse and a sandstone Bavarian lion, a reminder that Germany commands the lion's share of Lake Constance. Mangturm, the `old' lighthouse, looks more like a fairy-tale tower. From here, there are views of Austrian Bregenz on the opposite bank and towards the Rhine Valley in Switzerland. Lindau may be a tiny medieval island but it still surveys the heart of Europe.
With its picturesque alleys and pastel-tinted facades, Lindau is as pretty as any lakeside resort. Lindau's grandest building is the frescoed Old Town Hall, built in flamboyant Gothic style. Its step-gabled facade is festooned with cheeky cherubs, merry minstrels and stately galleons, a scatter-gun tribute to the island's past.
The crowds thin out as I leave the harbourfront and cute shopping streets around Maximilianstrasse and take to the waterfront trail. St Peter's Church, my favourite on the island, is deserted. Built over a thousand years ago, this frescoed Romanesque church is dedicated to the patron saint of fishermen. Abutting it is the turreted Diebsturm (Thieves Tower), which has served as prison, armoury and watchtower. Once back by the harbour, I'm rewarded with sun-trap cafes, sailing boats and a glorious sunset.
Alehouse rules
The mystique of a medieval island makes it overly popular with Swiss day-trippers but staying overnight allows for private discoveries. It's hard to tear myself away from the Adara, my arty boutique bolthole, with its old-meets-new urban buzz.
From my rooftop terrace I survey time-warp Lindau, surprised that this seemingly sleepy island is so at home with big city trends. Lindau is not just a lovely base but a good-value destination, especially when measured against Switzerland.
German prices are easily the best on the lake, including in Bockstube, a bierstube, or traditional alehouse. Costumed wenches serve plates of beer soup, wiener schnitzel and kasspatzen, cheese and onion-slathered noodles. It's a far more stylish scene at dinner in Valentin, where lake fish, lobster and beef carpaccio are conjured up by creative English chef Mark Beastall. It's fitting that it feels a romantic spot as the chef followed his German girlfriend here for love.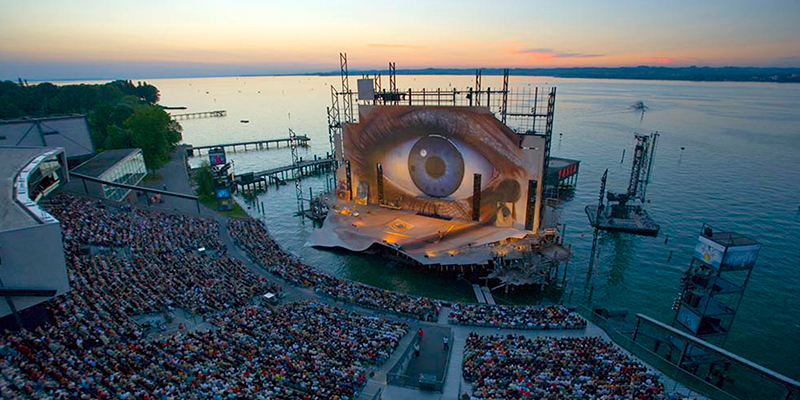 Bregenz Festival 007-style. Photo credit: IBT Achim Mende
Bregenz – an Austrian sound of music
From Lindau, it's a 20-minute ferry hop south to Bregenz, sweeping me from Germany to Austria. Sandwiched between the lake and the foothills of the Alps, Bregenz is a town of two parts, both equally captivating. The cobbled Old Town and the contemporary lakefront complement one another. Come summer, boisterous oompah bands take over the lakeside promenade but, despite its musical soul, Bregenz is an undersung city, at least for Brits.
Lofty-minded Bregenz takes culture seriously, from classical music to cutting-edge architecture yet also knows how to put on a show. My guide, Katja Zundel, enthuses about the city's passion for classical music, which makes Bregenz a summer hotspot for Swiss, Germans and Austrians.
Most British music buffs have yet to discover the Bregenz Festival and its impressive opera and classical music jamboree. The festival rolls into the resort in July and August, along with the world's biggest floating stage. Concerts are performed by the Vienna Symphonic Orchestra on the vast, open-air stage jutting out into the lake.
This summer, Bizet's Carmen is the opera on the lake, along with Rossini's Barber of Seville. Billionaire producer Barbara Broccoli even chose Bregenz as a setting for one of the James Bond films, Quantum of Solace. And so it was that Daniel Craig's 007 found himself on the floating stage battling villains during a performance of Tosca, that operatic thriller, on a set dominated by a giant eye.
Water music in the mountains
It's Sunday up in the Oberstadt, where Bregenz Old Town is deserted. I'm not complaining as I have the moody citadel to myself. Before me looms Martinsturm, a Baroque tower with views over the rooftops, topped by the largest onion dome in Central Europe.
The Swiss day-trippers are all out on the lake or sauntering along the waterfront. The temptation to join them is too great to resist. I stroll down to the lakeside promenade and admire the stage for Bregenz Festival, backed by its permanent concert hall. The appealing waterfront promenade links beach bars, gardens and bold, landmark buildings. The new Vorarlberg Museum, slotted between the city and the lake, is a contemporary cultural hub dedicated to Austria's westernmost province. Architecturally, it's an exciting space, with picture windows on the top floor designed to showcase the waterfront vistas. Bregenz is increasingly gaining a reputation as a centre for contemporary architecture, even if most visitors are keener on heading to the hills.
Bregenz, the capital of the outdoorsy Vorarlberg province, is also the place for celebrating an Austrian summer. The locals tend to don hiking boots and take to the peaks. I hop on a cable-car to the top of Mount Pfander for panoramic four-country views.
Framing Lake Constance are the snow-capped Alpine peaks of Austria, Switzerland and Liechtenstein, along with the stubbier Alpine foothills of Germany. This really feels like the heart of Europe, as does dinner. My farewell feast in Goldener Hirschen, a folksy inn, is an entertaining battle with Austrian portions.
My fellow-diners are making short work of the boiled beef, dumplings and wiener schnitzel. An apple-farmer laughs at seeing me struggle with the largest apple strudel I've ever seen. Drunken toasts are made in apple schnapps as a second strudel arrives as a joke. It's all very good-natured joshing but a world away from sophisticated Vienna.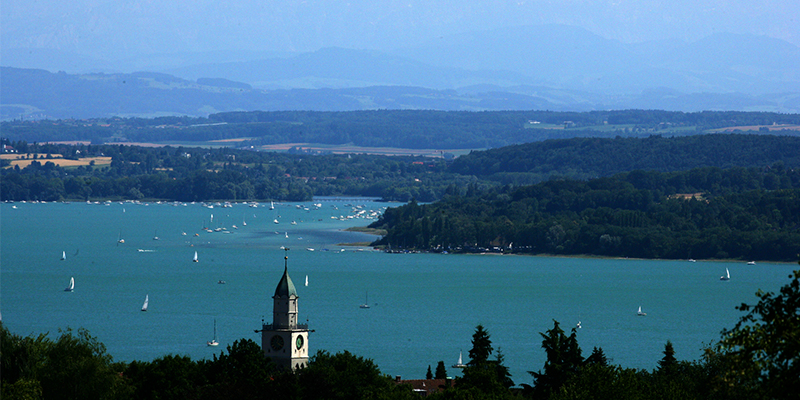 Lake Constance. Photo credit: IBT Achim Mende
Civilised Constance – the lakeside capital
Bregenz to Constance is a soothing steamer crossing west, and a chance for coffee, cake and camaraderie on board. My longest crossing helps me appreciate the scale of this forty-mile-long lake. I'm back in Germany, but in Baden-Wurttemberg rather than in Bavaria.
After my foray to the island of Lindau, I'm wondering what a proper German lakeside city feels like. Bisected by the Rhine, the unofficial capital of Lake Constance has always looked beyond its borders for its cultural identity.
Framed by the Alps and Switzerland, Constance commands the north-western shore of Bodensee. Conquered by the Romans and once tempted to be Swiss, this cosmopolitan city is a success story. Blessed by its border setting, snug beside Switzerland, Constance was spared from Allied bombing in the Second World War. This stroke of fortune lends the city an air of ease and authenticity.
Tucked between the River Rhine and the Münster, Niederburg is the cobbled heart of town. A pair of defensive towers stand sentinel on the Rhine, marking the gateway to the Altstadt (Old Town). The medieval towers and spires, half-timbered townhouses and twisting alleys form a backdrop to the Münster.
Formerly known as Constance Cathedral, this Romanesque basilica is topped by a filigree neo-Gothic spire. Outside, a glass pyramid shelters the 3rd-century remains of the Roman fort Constantia which gave the city its name. Altstadt's gabled buildings date back to the Council of Constance, the pinnacle of spiritual and cultural life on Lake Constance. But they also recall the city's merchant past and present.
Nowadays, the frescoed facades often belong to chic galleries and boutiques designed for Swiss pockets. The city prospers from cross-border shopping, with the canny Swiss pouring in to take advantage of lower prices, a favourable exchange rate and a generous German sales tax refund scheme to non-EU residents.

Constance Statue of Imperia. Photo credit: IBT Achim Mende
Saucy city symbol
From here, the town flows down to the harbourfront, a summery spot for cocktails and dreamy views over Lake Constance.
Surveying the scene is Imperia, the city symbol, a statue of a scantily-clad courtesan with two naked men in her hands. This alludes to the city holding the balance of power over the Pope and the Emperor during the Council of Constance, held here 600 years ago.
The Papacy was riven by three rival claims, decided with the election of a new Pope in 1417 in Constance Cathedral. It took Constance to heal Christendom. Today, the Council building, the dormered Konzilgebäude, makes space for Konzil, an old-school restaurant. Over grilled lake fish and Swabian noodles, I ponder the city success story. Constance is clearly still riding her luck.
Like the city, Lake Constance is a microcosm of European history, both borderlands and the heart of Continental culture.
These lakelands have shaped history and brought enlightenment to Europe. The Swiss Abbey of St Gallen was a beacon of learning at a time when Britain languished in the backwaters. The Council of Constance saved Christendom at a time when Europe was riven by Papal Schisms. The city also witnessed the election of the only Pope to be enthroned north of the Alps. The French Emperor Napoleon III once lived on the Swiss side of the lake, at Schloss Arenenberg. The lake boasts Germany's oldest theatre, Switzerland's oldest library and one of Austria's finest music festivals.
But Bodensee is not prone to boasting.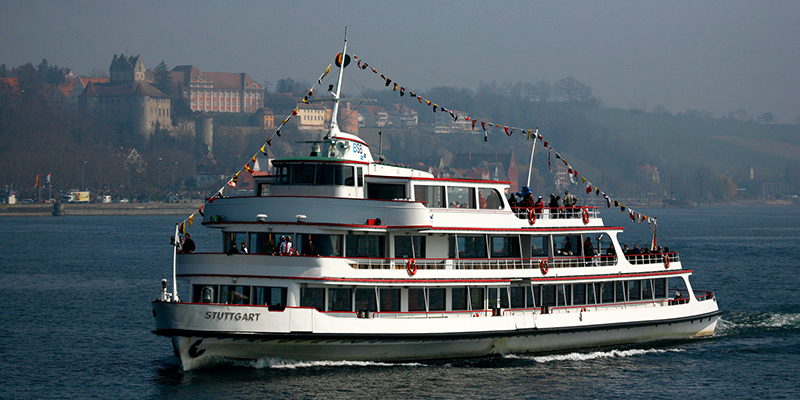 Sailing Lake Constance. Photo credit: IBT Achim Mende
Sailing home
From tinkling cowbells to lofty classical music, Lake Constance has been an uplifting and illuminating experience.
The lake has delivered on quaintness, from cuckoo-clock villages to cheese-fests. As I've discovered, the lake can do folklore, from felt hats and folksy dancing to peasanty dirndls and thigh-slapping lederhosen. The Sound of Music scenery has also entranced me but the Alpine views are matched by gorgeous medieval towns and time-warp islands. Above all, Lake Constance feels effortlessly civilised, combining the cosy and the contemporary, the kitsch and the cutting-edge.
And it all works seamlessly, from the trains to the ferry-hopping. In terms of language, German may be the common currency but basic English is spoken in resorts and hotels.
You still need to juggle Euros and Swiss Francs, European and Swiss adapters but it's all part of the European adventure. Given its superb standard of living, Lake Constance can provide exceptional value as you can always ferry-hop to save money. As Katja, my Austrian guide, confirms, "Switzerland's the most expensive place on the lake, followed by Austria and then Germany, with Liechtenstein more like Switzerland." Even so, charming hotels come at reasonable prices while the Lake Constance Pass makes the rest affordable.
Bodensee is also a cosmopolitan foodie destination, promising Swiss sophistication, Austrian mountain fare and Bavarian feasts. For meat-lovers, it's nose-to-toe cooking, with roasted pig's knuckle, pork belly and dumplings, veal sausages and vinegary sauerkraut.
The timid can get away with cheese-refuelling stations and Constance wines. I'm now a fan of spaetzle dumplings slathered in cheese and crispy shallots. But it's not all cholesterol-busting fare.
The loveliest towns and lakeside resorts also cater for more sophisticated tastes. Every summer, Nobel Laureates gather in little Lindau to share their research and promote international learning. Cynics say that the high tone is lowered by the copious amounts of Bavarian beer drunk on their lakeside jaunts.
But that's Lake Constance: culture that can be drunk.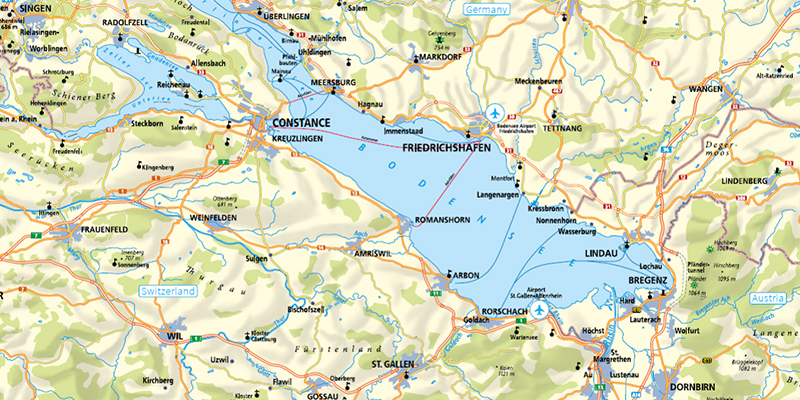 Map of Lake Constance. Photo credit: IBT
Best tourist offices:
Lake Constance (Bodensee): www.lake-constance.com
Lake Constance Pass: from 41 SF (£31) for 3 days or from 67 SF (£50) for two weeks.
St Gallen, Switzerland: www.st.gallen-bodensee.ch
Swiss Tourism: www.myswitzerland.com
Lindau, Germany: www.lindau.de/en
Bregenz, Austria: www.bregenz.travel
Bregenz Festival, Bregenz: www.bregenzerfestspiele.com
Constance (Konstanz), Germany: www.kostanz-tourismus.de
Best beds:
Hotel Einstein, St Gallen, Switzerland: www.einstein-ch/en
Hotel Adara, Lindau, Germany: www.adara-lindau.de/en
Hotel Weisses Kreuz, Bregenz, Austria: www.hotelweisseskreuz.at
Hotel Riva, Constance, Germany: www.hotel-riva.de/en
Best dining:
Valentin, Lindau, Germany: www.valentin-lindau.de/en
Engelstube & Bockstube (in Hotel Engel), Lindau: www.engel-lindau.de
Goldener Hirschen, Bregenz, Austria: www.hotelweisseskreuz.at
Konzil, Constance, Germany: www.konzil-konstanz.de
Lisa Gerard-Sharp is an award-winning travel writer whose work, including blogs, can be found on www.lisagerardsharp.com