Infographic reveals best and worst plane seats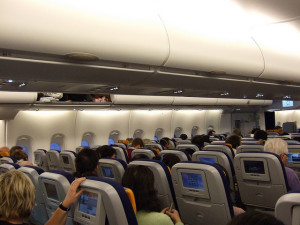 An infographic collated by a leading travel search engine has outlined the best seats to occupy to ensure the best flight, news which is sure to be used to offer the best possible holiday.
Created by Kayak along with Dan Air, a cabin crew member and aviation expert, the infographic reveals that the best possible seat on a standard Airbus A320 is the 1A. There are numerous reasons for this seat's dominance; while offering the first choice of the food and beverages, as well as extra leg room, 1A is also right next to the door, so the occupant will be the first off the plane.
While the range of medical condition travel insurance packages offer the perfect holiday protection at a great price, the infographic is an example of other great tools to help enhance your getaway experience.
It's a completely different story if you find yourself sat in seat 1F, as this has been proven to be the coldest seat on the aircraft. Row 30 is considered the worst of all on the flight, with the limited reclining and the fact that it is close to the gangway meaning it's the least favoured of all places on the plane.
Another aircraft that featured in the infographic was the Boeing 777, a popular choice for airlines such as British Airways, Emirates, Singapore Airlines and Qatar Airways. For those boarding this style of plane, rows 44 and 45 are those to avoid as they are found to be the worst on the flight, mainly because of their close proximity to the toilets and their limited reclining functions.
Click here to take a look at the infographic for yourself.
Travellers go to great lengths to get best seats
As well as highlighting the best seats, it also shows the lengths which travellers will go to in order to get their favoured place on the plane. Of the 1,000 people that were asked, 31 per cent said that checking in online immediately after check in opens was their favoured method. Also popular were arriving early and queueing at the gate, paying to select a seat in advance and paying for priority boarding, taking 34 per cent, 27 per cent and 12 per cent respectively.
Whichever seat you choose on the plane, be sure to book comprehensive over 60s travel insurance cover to ensure you're protected against any unforeseen issues.
Image Credit: chinaoffseason (Flickr.com)