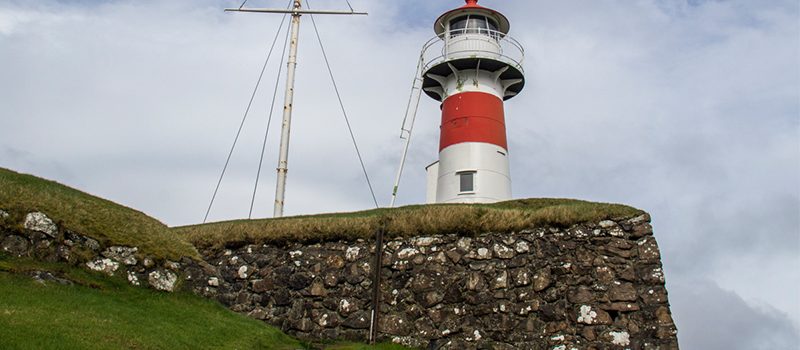 Fun in the Faroe Islands
I love to travel to unusual places where the culture has not been affected by the demands of tourism.
In the Faroe Islands I discovered an enchanting mixture of age-old traditions blended with the comforts of modern living.
This makes the islands a unique place to visit.
Where are the Faroe Islands?
Isolated in the Atlantic between Scotland and Iceland the Faroe Islands, a group of eighteen islands, are self-governing although they are part of Denmark.
These islands are inter-connected by under-sea road tunnels, ferries, causeways and bridges.
They have a character, history and culture all of their own and it was great fun exploring them.
I hope to tempt you there by telling you about five of my favourite experiences while visiting the islands.
1. Hotel Føroyar – Sleeping Under a Turf Roof
My hotel, Hotel Føroyar was perched above Tórshavn – the capital of the Faroe Islands. It has been so cleverly designed that it stretches across the hillside and looks like a grassy ridge.
Its modern bedrooms are topped by a traditional turf roof.
The turf is laid on top of a covering of birch bark – a technique that has been popular since prehistoric times.
They absorb rainwater, provide insulation in winter yet they are cool in summer. The grass is treated like a lawn watered and mown as necessary.
This is where the many sheep that graze the islands come in handy.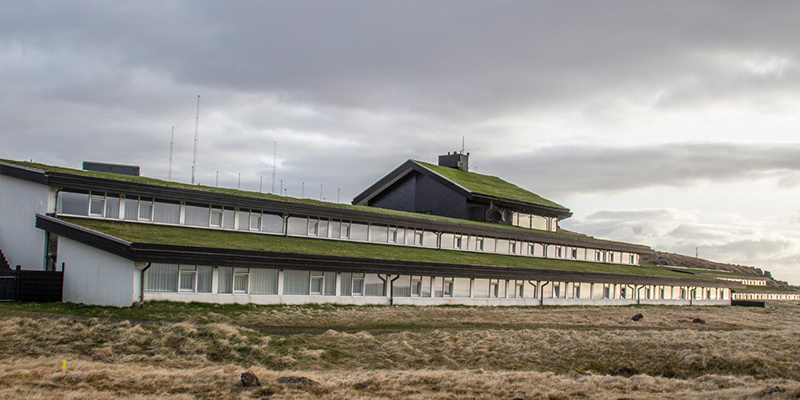 2. A Tour of Tórshavn
Tórshavn, on the island of Streymoy the largest of the Faroe Islands, is the capital of the island.
Its harbour is dominated by the red and white tower of a lighthouse on a promontory at the far end of the harbour.
It was a lovely brisk walk up to this lighthouse where I found Skansin – a fort that was built to defend the town. From my viewpoint I could see a row of red buildings perched on a black rock peninsula.
This area, known as Tinganes, has always been the seat of the government and today the government's offices are housed in renovated warehouses.
Visitors can wander freely around these buildings.
Just beyond Tinganes is the old town, Undir Ryggi, whose black tarred buildings with white-framed windows beneath turf roofs were built during the fourteenth century.
It was a pleasure wandering through this lively capital where the shouts of bartering in its fish market mingled with chatter from its many small, cosy bars.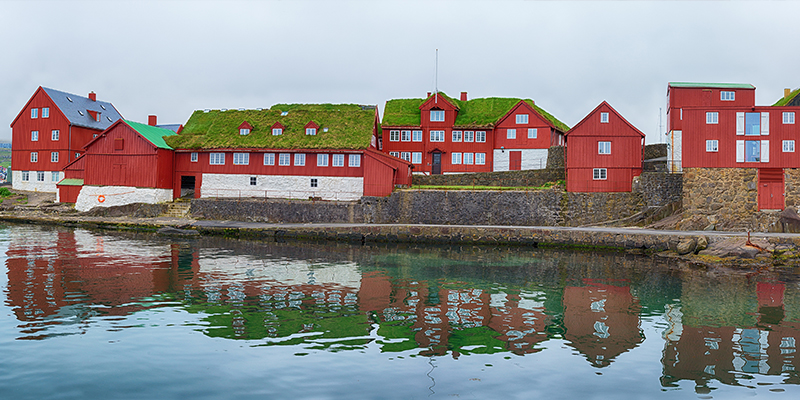 3. Dining at Koks, a Michelin Star Restaurant
It was a great surprise to discover that the Faroe Islands feature a Michelin Star restaurant, Koks, which is housed in a traditional farmhouse.
Guests gather in a small drying hut (hjallur) by a lake where they are offered a local aperitif (kombucha) to drink and some traditional appetisers.
The taste of the dried fish improved dramatically when dipped in butter.
Guests are then transported by jeep to the farmhouse.
It was a memorable meal, seventeen taster dishes created from local produce and foraged ingredients.
I enjoyed every morsel – in particular a fifty-year old Mahogany Clam, seaweed, and a delicious dessert of wild thyme and crowberry.
Each course was accompanied by a different wine or a delicious fruit juice. The restaurant has a large wooden table around which they seat diners who have come alone so everyone is assured of an enjoyable evening.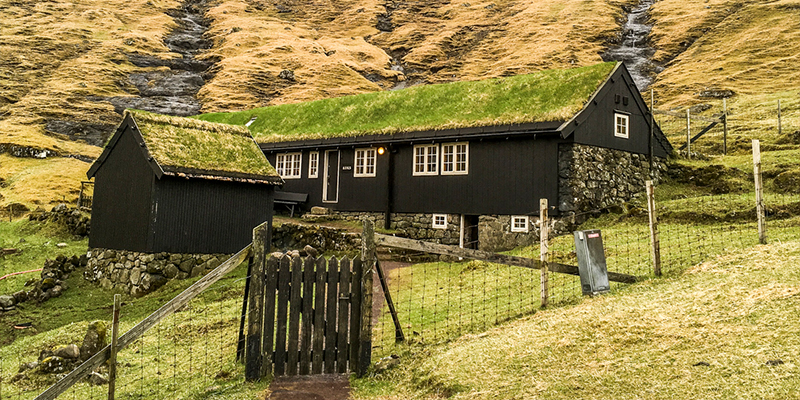 4. Walks Along a Fjord and on Top of a Cliff
As a keen walker I was delighted when I was invited to go exploring the island of Streymoy on foot.
My first walk involved a fjord, an incoming tide and a lot of rain – but it was fun and exhilarating.
After crossing a huge beach at the end of the fjord I walked along the fjord itself and could hear the waves of the Atlantic crashing into the mouth of it.
I got far enough to enjoy the sight of the magnificent ocean before it was time to turn back.
My second walk took me over the cliffs. It was glorious, a soft breeze played with my hair every time I paused to enjoy the wonderful views out to see.
This walk ended in the village of Kirkjubøur, the cultural capital of the islands.
Here I visited the interesting medieval ruins of Magnus Cathedral and was entertained by the famous farmer Jóannes Patursson in his own farmhouse museum, Roykstovan.
This farmhouse is nine-hundred years old and has been continually occupied since it was built in the twelfth century when it was used as the bishop's residence.
The Paturssons, a farming family, have lived here since 1550 – seventeen generations. It is the oldest inhabited wooden house in Europe. His tales of bygone days on the Faroe Islands were both interesting and amusing and it was a delightful finale to my time on Streymoy.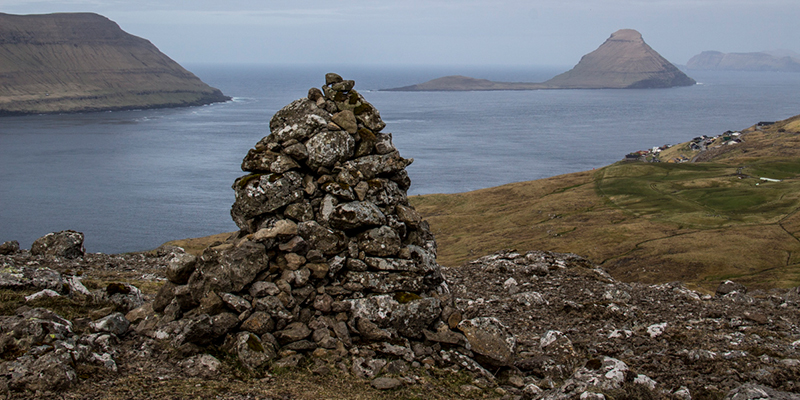 5. Afternoon Tea and a Chain dance
On the island of Sandoy, named for its large beach and sandy soil, more fun was to be had. It was here I experienced the Faroese tradition of heimablídni or home hospitality.
There are no cafés or restaurants on Sandoy, so the islanders offer meals in their own homes.
In the village of Dalur I was invited to partake in Drekkamunn (refreshments). I was presented with a magnificent high tea.
After I had eaten one of my hosts told me about the traditional chain dance. He was so enthusiastic that I agreed to have a go with the other guests around the table.
We joined hands while he and the other hosts sang, acapella, one of the many thousands of songs that accompany these dances.
We joined hands and stumbled around in a circle for a while until we found a rhythm and it graduated to a fun experience – especially our efforts to learn the chorus of the song.
While on the island I discovered another tradition, that of the knitted rock at Bartalstrøð. My guide, Hannah, had contributed to the knitted decorations that are draped over the rock every year between May and September.
It seems that the joy of knitting, a popular activity on the islands, has replaced any historical reason for this tradition reputedly rooted in a legend about a troll.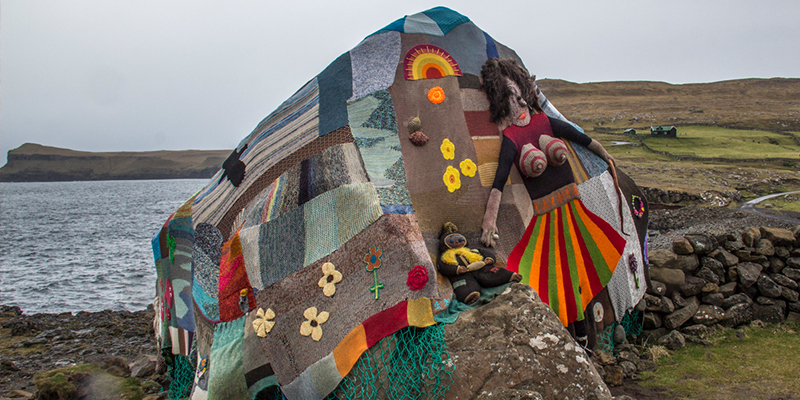 How to get to the Faroe Islands
Atlantic Airways operate regular flights from Edinburgh to the Faroe Islands arriving at Vagar Airport on Vagar Island. This island is connected by a sea tunnel with the Streymoy, the largest of the Faroe Islands. Public transport is available but the best way to explore the islands is to hire a car.
The islands are linked by roads and vehicle ferries. Local tourist information offices will provide information regarding places to visit and events taking place.