Do you eat foreign food while on holiday?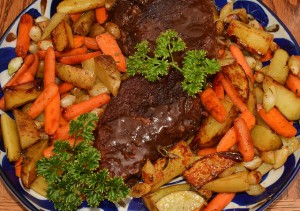 Recent research has revealed that many Britons are still unwilling to leave their traditional foods at home, with one in ten not wanting to sample foreign food while on holiday.
With holidays abroad and essentials such as travel insurance for over 70s more affordable than ever, it's hardly surprising that millions of Brits head through the airport departure lounges year after year.
It comes after a survey was conducted by leading British supermarket Morrisons, which questioned Britons up and down the country on their eating habits while abroad. It found that 33 per cent of holidaymakers prefer to boycott local delicacies in favour of traditional foods from home – such as fish and chips or the full English breakfast.
As many holidaymakers choose the flexibility and lower cost of the self-catering holiday, some even admit to rustling up classic dishes while abroad to serve as a reminder of home. Of the people included in the survey, 24 per cent like to cook a traditional roast dinner, while fish and chips was the British dish of choice for 21 per cent.
Many replicate foreign dishes at home
Despite the unwillingness of some to explore the foods of the world, there are some who like to take these wonderful foreign dishes back with them and replicate them in the home. One in ten said that they hosted a holiday-inspired dinner part after their return. Paella, Bolognese, tapas and moussaka were among those that featured in the top ten.
Also popular are the drinks available to holidaymakers while abroad, with Queimada, Mojito, Caipirinha and Mama Juana among the top 10 favourites people like to enjoy after returning home from their holidays.
It is likely that one of the reasons many people opt against eating foreign food is the worry that it could make them ill. By purchasing the unrivalled medical travel insurance packages from Avanti Travel Insurance, holidaymakers have the peace of mind that they are covered should anything go wrong.