One of the most exciting things about travelling is sampling the food of different cultures and regions.
With mainland Europe on our doorstep, there's a huge variety of cultural cuisines ready to taste.
To whet your appetite for culinary exploration, here's five of my top foodie destinations in Europe: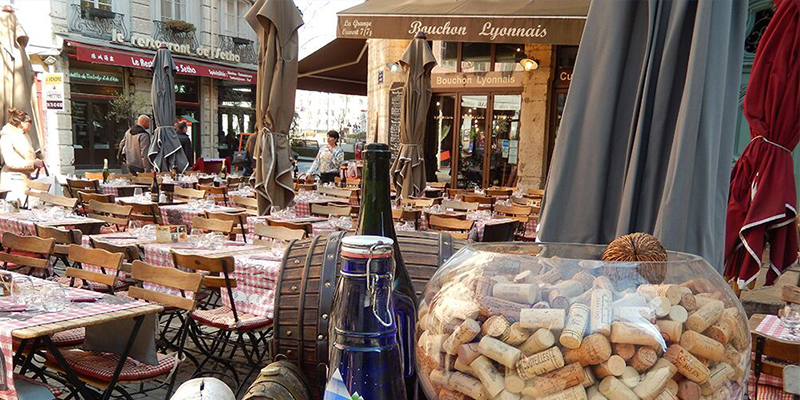 Lyon, France
If Paris is the heart of France, then Lyon is its stomach.
The late Paul Bocuse, a Lyonnaise chef, did much to put the city on the modern foodie map. Holding 3 Michelin stars for over 50 years, he was renowned the world over. He also created a string of brasseries in Lyon that are well worth a visit, each specialising in different aspects of French cuisine.
Apart from fine dining options, there are a number of rustic restaurants called bouchons. They traditionally used cheaper cuts of meat and peasant food cooked well and innovatively. Today this tradition has been kept alive and is a thriving tourist attraction in Lyon. You'll find about 20 certified bouchons but many more that adopt the style on street corners all over the city.
If you're not already full, I'd suggest a visit to Les Halles de Paul Bocuse for all kinds of Lyonnaise treats including macaroons and the famous Quenelles de Brochet.
Evora (Alentejo) Portugal
Alentejo, a south-central region of Portugal is known to be one of the most authentic and preserved regions of the country. It's also known for its simple and honest cuisine with Evora being the best city to experience the regional cuisine.
Much of the local cuisine in Evora is based on typical Mediterranean produce including almonds; wheat; fine olive oil; beans; vegetables; honey and free-range meats.
One of the most famous types of meat you'll find here is raca Alentejana often referred to as porco preto (or black pork). This is from the free range, acorn-fed black Iberian pigs and has been described by many as a magical taste sensation.
There are plenty of eateries in the city but it is worth visiting the farmers market for a taste of local produce. You'll find ewe's milk cheese, honey and the local bread, Pão Alentejano, which is a long-fermented bread made with a natural yeast starter baked in brick ovens and heated with firewood.
As Alentejo borders the sea you can also expect to find a plentiful supply of seafood in Evora, based mostly on octopus, cod and sardines.
Sopa cação is a favourite local fish dish. It's a hearty, thick dogfish soup and is often eaten as a main course.
Copenhagen, Denmark
The Danish capital is a relative newcomer to the gastronomic scene.
This is due not just to pastries and bacon but the opening of Noma.
This Michelin-starred restaurant gave birth to what became known as 'New Nordic Cuisine' which champions local and in-season produce to create simple but elegant dishes using traditional Nordic techniques.
But there is more to Danish and Copenhagen food than Michelin-starred establishments.
Danish cheeses and smoked or pickled herring feature strongly here. The classic Smørrebrød, an open sandwich of buttered rye bread are often topped with a combination of egg, marinated herring, beef tartar or cod roe and is a must-have.
It is also the place to try what we call Danish pastries and they call Weinerbrød or Viennese Bread.
Bari, Puglia, Italy
Puglia – often referred to as Italy's sun-bleached heel – is where you'll find the seaport Bari. It's here that you'll find exceptional street food.
Inside the Old City, the street food is an unforgettable and delectable experience.
Either it's prepared in small cupboard-like recesses in the walls or cooked outside the front doors of the families making it.
Here you'll find must-eats of:
Focaccia barese, a bread topped with olive oil, tomatoes and herbs
Orecchiette, literally 'little ear' shaped pasta
Spagliozze, deep-fried squares of cornmeal
Finally, finish off with a generous helping of rich and creamy gelato from the gelateria in the piazza.
Thessaloniki, Greece
Greek food is one of the world's most popular cuisines and Thessaloniki on the Aegean coast is the best place to sample it.
The street food of Thessaloniki has a well-deserved reputation as being the best in Greece.
Must haves here include:
Koulouri, similar to a bagel
Gyros, meat-filled pita bread with yoghurt or sauce
Mpougasta, pastries filled with cheese, cream or meat.
Sweet flaky pastries are everywhere and popular snacks.
Souvlaki, also a popular street food, is a Greek version of the kebab.
In the restaurants and tavernas, you will find traditional Greek dishes such as moussaka, lamb dishes and, in the Kalamaria area, some of best fish dishes in Greece.
The more informal tavernas will serve mezedopola, small plates or mezes, filled with bite-sized food to go with your drink.
The world's your oyster, pastry or pizza…
There are so many more cities for the serious foodie to visit and everyone will have a different recommendation.
Those above are my current recommendations and will over time change I have no doubt.
Bon Appetit.
Nearest airports to get there:
Lyon, France: Lyon–Saint-Exupéry Airport (LYS), France.
Evora, Portugal: Badajoz (BJZ), Spain.
Copenhagen, Denmark: Copenhagen (CPH), Denmark.
Bari, Puglia, Italy Bari Karol Wojtyla Airport (BRI), Italy
Thessaloniki, Greece Thessaloniki Airport "Makedonia" (SKG), Greece