My Disappearing Act on Skis  
The only sound that reaches me through the clear, cold air is the sound of my skis swishing on the crispy snow.  Tiny particles of snow floating through the air make it seem as though I am floating through silver rain.  The exileration is almost unbearable and I am tempted to break into song.  But the last time I did that a skier in front of me stopped and asked if I was in pain.  I hum to myself – establishing a nice easy rhythm as I fly down the empty slopes.  Early morning is the best time to ski and I glad I came to the resort a week before my first group arrives.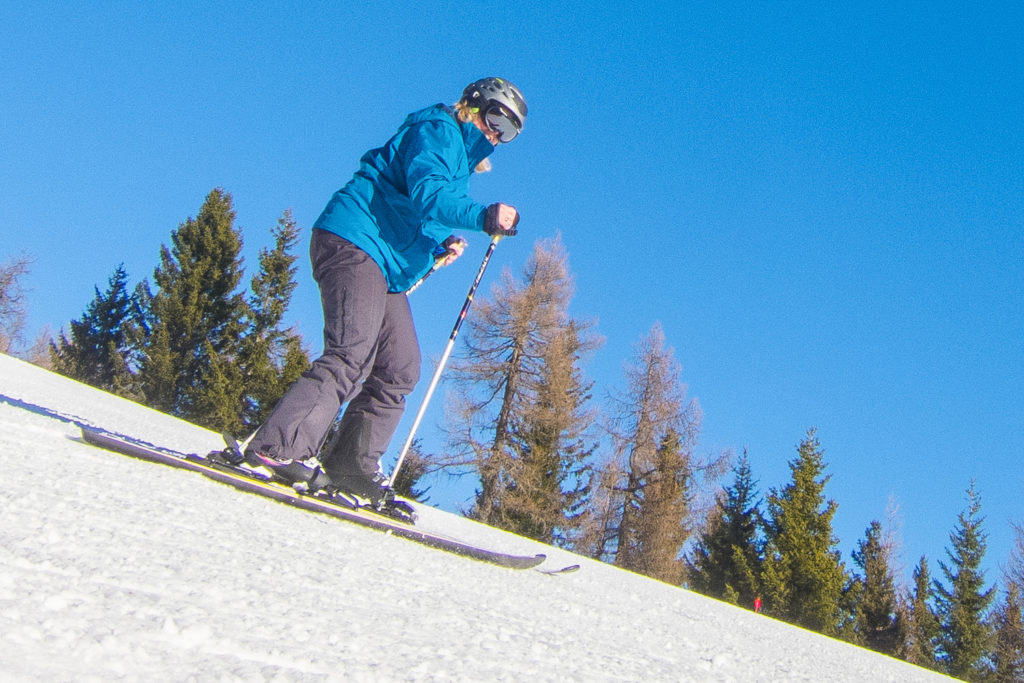 After a week skiing on my own I am missing the camaraderie of skiing with a group and I am ready to get back to work as a tour leader.  The first night with a new group is always interesting as many over-estimate their prowess as a skier and an equal number underestimate it.  A first run on an easy blue piste soon resolves that issue and we separate into groups of equal ability promising to meet up again for coffee and then lunch.
I generally ski with the intermediates and show them around the resort.  My favourite resort is Madonna di Campiglio http://www.campigliodolomiti.it/lang/EN/homepage  in the Italian Dolomites.  I would have said I know the whole resort like the back of my hand.  That is until the day we were skiing through low cloud and I discovered that even the most familiar places look different when shrouded in mist.  I turned between the wrong set of of poles, went straight over the edge and dropped thirty feet into waist-deep snow.  It was going to take a while to get out of that so, when the group had stopped laughing at my vanishing act, I sent them off to get a coffee.  I remembered my ski instructor telling me never to take my skis off if stuck in deep snow.  It took a long time shuffling to and fro making tracks through the snow to get out.  Thirty minutes to be precise as I shuffled forwards and up towards the piste above me.  I got a rousing cheer when I finally dripped into the restaurant – snow everywhere, hood, pockets, even inside my goggles.
That is one of the best things about skiing in Italy, there are always nice restaurants on the slopes varying from self-service to gourmet dining.  During the week we usually try a different restaurant each day.  Either in Madonna di Campiglio or one of the other three other resorts it is linked to by a good network of ski lifts – Folgarida, Marilleva and Pinzolo.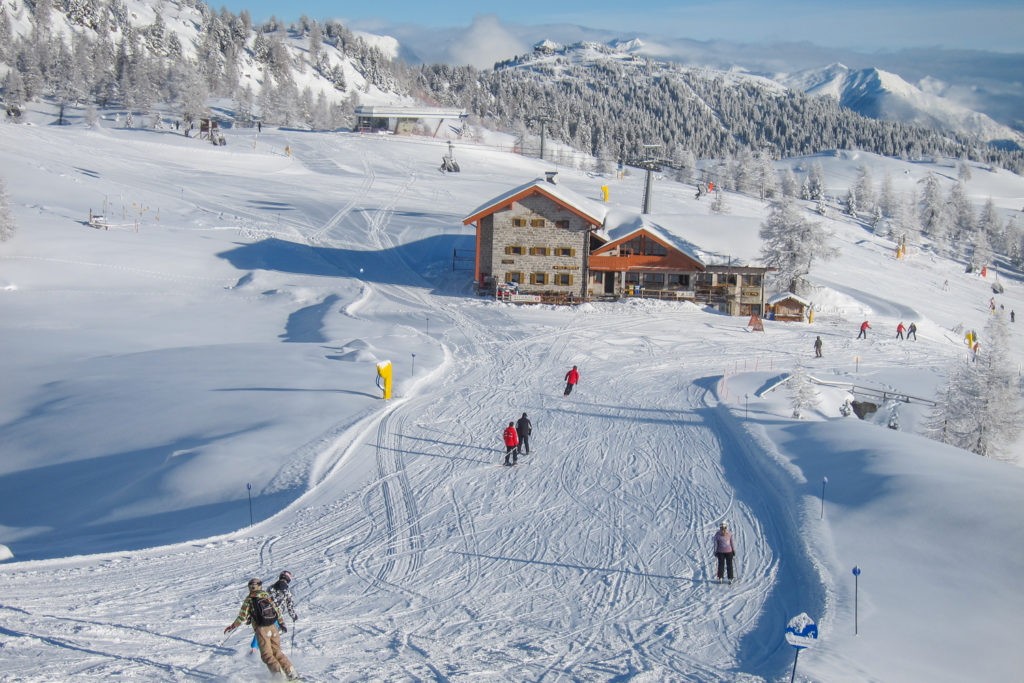 At the end of the day we ski down to the town and head to the nearest bar for a welcome drink as we chat about our experiences on the slopes.  Needless to say my disappearing act kept that particular group amused for the rest of their stay.
As the days get shorter and the weather gets colder the ski season gets closer – I can't wait.
Planning a ski trip this winter? Don't forget you can get up to 17 days winter sports included FREE in our Annual Multi-Trip policies, up to the age of 70.
By Valery Collins www.experiencedtraveller.co.uk