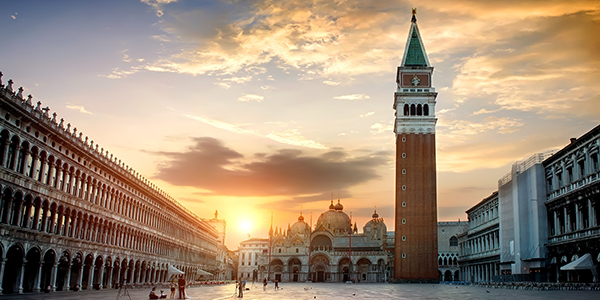 Daydreaming in Venice
Venice in winter is made for day-dreaming. In this ghostly water-world, visitors can slip between crumbling porticoes, sumptuous ballrooms and sinister bridges. Winter is about decadence and drama but also reveals a local side to the lagoon city. It's a private Venice, even if the pale lagoon light feels awash with illustrious ghosts.
Daydreaming is a Venetian state of mind, especially during the winter mists. Like all super-model cities, La Serenissima can be smothering, simply too beautiful to bear. Almost everyone who is anyone has been to Venice, and tourism is almost as ancient as the city itself. But there are too many unghostly fans in summer, clamouring for yet another gondola selfie. The best response to the seduction of the city is simple: drift away in summer; flirt with her in winter; and wait till she calls you back.
My mission is to explore this melancholic, wintry city in a visual way, inspired by a series of photographic books that put mood before cliché. I leaf through striking images from "Dream of Venice" and immediately start day-dreaming. Publisher JoAnn Locktov explains, "There are intimate corners of fascinating history and splendour in Venice that are completely ignored by visitors. We work with photographers who explore the less travelled Venice. We want the images to inspire curiosity about the city."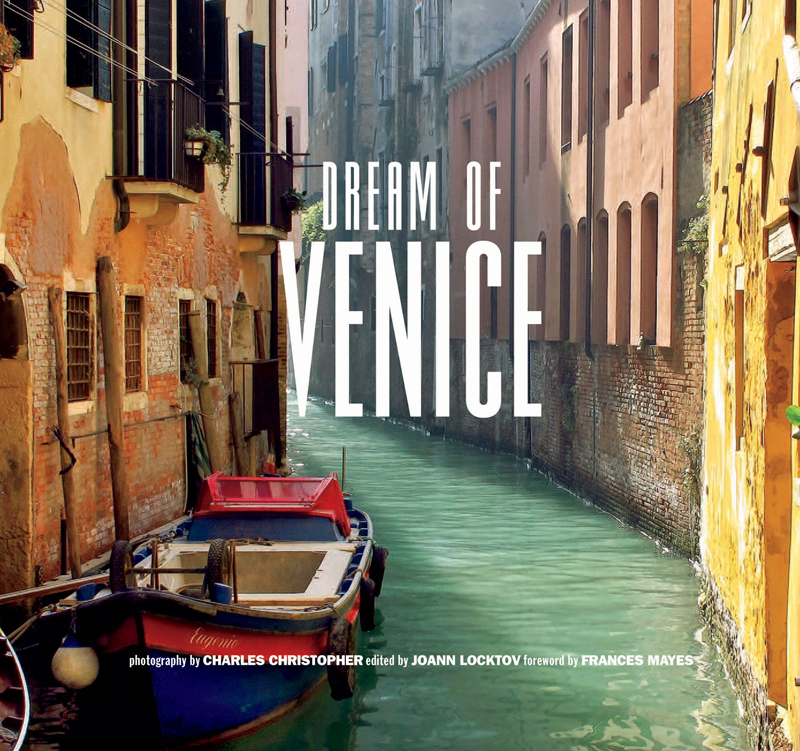 Credit: Dream of Venice by Bella Figura Publications
Capricious Venice
Melancholy and nostalgia await around most dark canal corners, if a ghost town is what you're seeking. Venice is a state of mind, a canvas for projecting one's poetic fantasies. The city reflects our moods, aided by changeable light and a capricious climate. Jonathan Keates, Chairman of Venice in Peril, sees Venice as "the great masseuse of our hankerings and illusions: she discovers us not for what we are but for what each of us would like to be."
Winter can mean crumbling splendour and sipping bellinis in baroque bars. But it also means baleful cormorants, wailing fog-horns and a monochrome mood. Venice fan JoAnn Locktov also recommends wintry visits as closest to the city's spirit: "Plan on walking, and plan on wet weather. Eat the creatures of the lagoon and drink the wines of the Veneto. Have time to just wander. Getting lost is not so much an ambition for us tourists as it is an unavoidable luxury. Travel out to Torcello to see where it all began. Go to San Giorgio and look back upon Venice and you will be able to feel her majesty." I decide to do just that.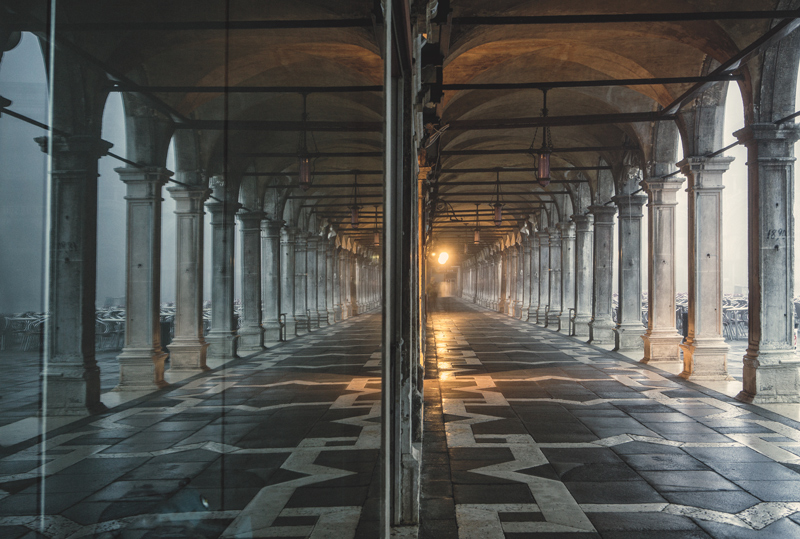 Credit: Dream of Venice Architecture by Bella Figura Publications
Padding through palaces
Time to meet the supreme ghost in the Doge's Palace. This filigree fantasy overlooks St Mark's Square, the ceremonial heart of Venice. San Marco, the only true square in Venice, can feel like a Bermuda Triangle, imprisoning visitors in its embrace. The square has, indeed, served as a prison and execution site as well as a meeting place and marketplace. From here, the Doge ruled the Venetian empire but was himself controlled by the system.
We pad through the frescoed palace to see how it feels to be the supreme ruler of the Serene Republic of Venice. The Doge lived in a gloriously gilded cage and was closely guarded in his `shadow-palace,' which concealed a police state, backed by steely inquisitors, secret passageways and postboxes for sneaky denunciations. Local citizens could denounce one another by posting their allegations in a monster-mouth letter-box in the palace.
The Secret Itineraries tour takes us behind the scenes, revealing the criminal courts, hidden behind the art-studded council chambers. We walk in Casanova's footsteps, following his daring escape from the Doge's Palace prisons. To the Venetian authorities, the legendary lover was better-known as a turncoat diplomat and spy. Guiltily, we hanker after more decadence and drama, grand piles on the Grand Canal, and a faint air of murk and mystery that falls just short of state inquisitions.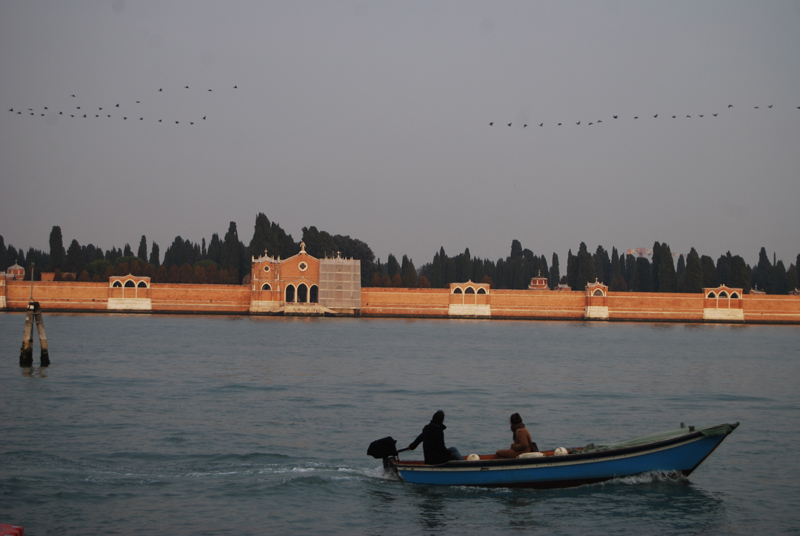 Ghostly San Giorgio
The cafés of St Mark's Square are awash with famous ghosts, gently wafting us in different directions. After a reviving hot chocolate in Florian, the square's plushest café, we look for solitude once more. The monastic island of San Giorgio lies just across the waterfront.
With its cypress-framed vistas, this solemn island feels far removed from the commercial maelstrom over the water. Seen from the ferry, the austere monastery appears suspended in the inner lagoon, with its cool Palladian church matched by a bell-tower modelled on St Mark's. Together with the church of La Salute, these beacons guard the inner harbour. This is Turner's Venice, captured in his marine studies, an iridescent city bathed in a watery light.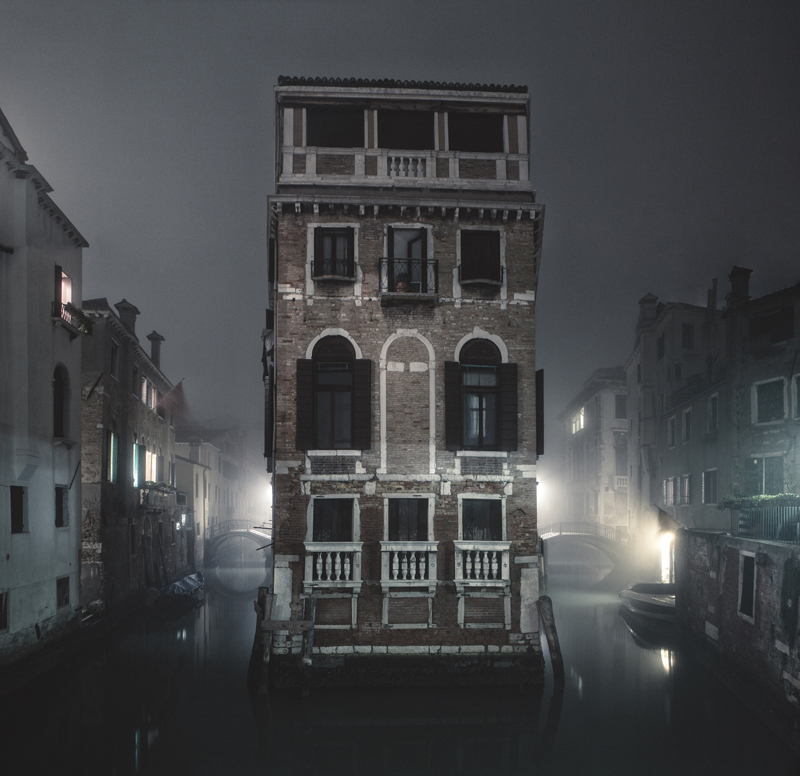 Credit: Dream of Venice Architecture
No secret Venice
Venice so clearly belongs to the world that finding a private version first seems impossible.
Visually, the city is already engraved on our consciousness. Riccardo De Cal, the photographer of "Dream of Venice Architecture," feels that Venice is the most difficult city in the world to photograph. The city has been done to death, a death by a thousand clichés. Even so, the photographer has managed to find a personal vision, as you see here.
Even for visitors, the city provokes a possessive passion for a `secret Venice.' Mary McCarthy, in her delightfully ironic book, "Venice Observed," warns against the vanity of thinking one has discovered a hidden Venice: "Contrary to popular belief, there are no back canals where a tourist will not meet himself, with a camera, in the person of the other tourist crossing the little bridge." So the first illusion to lose is that you will find something new: at most, it will be lesser-known Venice, which is wondrous in itself.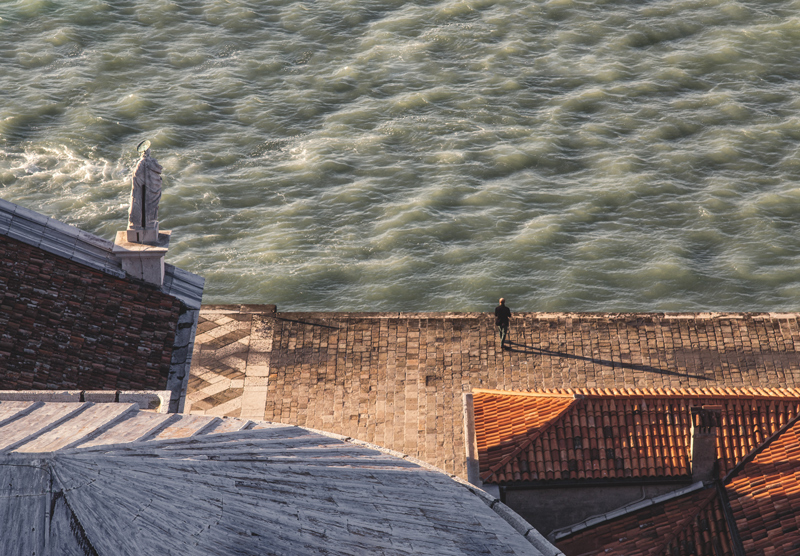 Credit: Dream of Venice Architecture
Lagoon life
In the wintry Northern Lagoon, the islands give the illusion of a `secret Venice.' Criss-crossing ferries pass baleful cormorants perched on navigational poles. On leaving the Fondamente Nuove quaysides, we linger over views of the cemetery island of San Michele, framed by solemn cypresses and rose-tinged brick walls.
Murano, the glassmaking island, emerges from the mist. It was here that fractious master-glassmakers were exiled over seven centuries ago because their foundries caused frequent fires. As glass makes me glassy-eyed, we simply lap up the lagoon, with its wild ducks, derelict forts and deserted monastic islands. Carved by invisible streets, deeper navigable channels, the lagoon is a patchwork of salt pans, sand banks and mud flats. Thanks to the shifting tides and the shallowness of the lagoon, the islands preserve a pastoral way of life, one that is threatened by cruising and city maladministration. The lagoon is where Venetians retreat to go flirting, shrimp-fishing, bird-watching by remote sand bars, and gulls snoozing on bricole, the jaunty navigational poles.
We spot the island of Sant'Erasmo, the market garden of Venice, with its orchards, artichoke fields and monochromatic lagoon views. Burano is a splash of colour in a bleak lagoon. Venice's friendliest island exudes an infectious warmth, with its seafood inns, bobbing boats, fishing nets and the few surviving lace-makers. When not ruining their eyesight poring over lace, the fishermen's wives would paint the family homes in bold colours, often adding geometrical motifs over the doorways. Casanova flits into my daydreams as his presumed ancestral home stands eerily empty on the Mazzorbo waterfront, facing Burano.
A ferry silently slips us across the channel to Torcello, the remotest island, whose haunting bell-tower reminds us that Venice arose from these solemn marshes. Guided by navigational markers, the ferry weaves us back `home' to the heart of Venice, past islands long abandoned to birdsong or to the prayers of monks.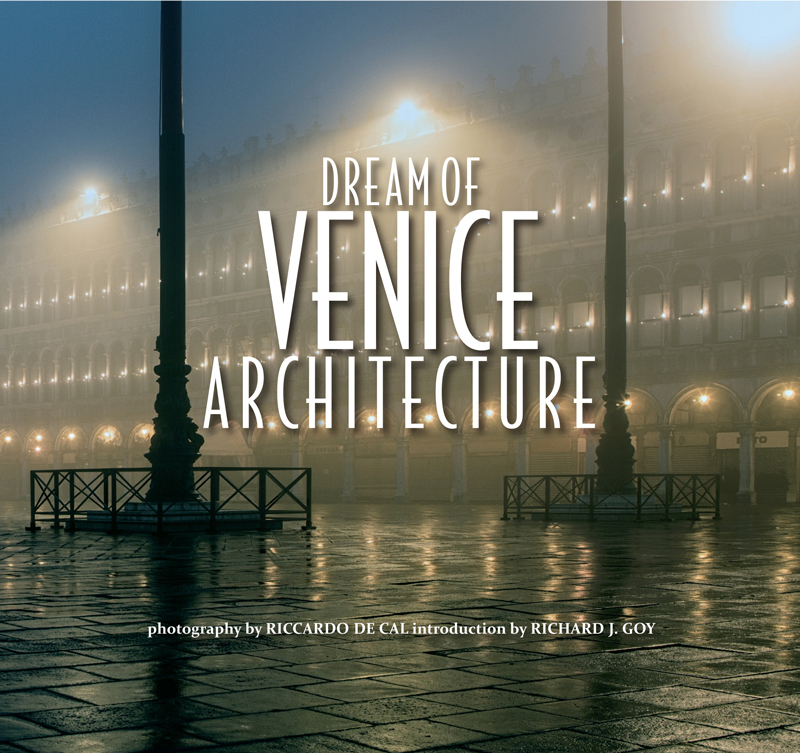 Credit: Dream of Venice Architecture & Bella Figura Publications
Wintry farewells
According to writer Jan Morris, most visitors leave Venice "sated but puzzled." The dowager hotels play into the plush fantasy. Venetian beds and bars veer between grandeur, intimacy and decadence, unmasking you as a closet Doge, domestic goddess or grandstanding drama queen. While part of the glory of Venice, the proliferation of such places is forcing the locals out, as is mass tourism. Already a time capsule, Venice is at risk of becoming Disneyland.
In his book, "If Venice Dies", Salvatore Settis calls for a changed attitude towards the world's loveliest lagoon city. The writer realises that we mostly come to revel in the city's romantic decline but he pleads with us to remember the locals and to safeguard their way of life: "My fear is that if Venice is only perceived as a nostalgic remembrance, she will lose relevance to our daily lives. If Venice loses relevance, the city will no longer be living, and will become an embalmed parody of her former glory. There will be no one left who cares enough to save her."
JoAnn Locktov puts it more simply: "Treat the city with as much respect as you would a cherished, brilliant and courageous nonna (granny), and there is a good chance you will discover her heart."
Bed and Board
Dream of Venice (art and photography books):  www.bellafigurapublications.com
Coffee-table companions for a visual meditation on Venice, with beguiling photography matched by thoughts from contemporary Venice-lovers. To sustain Venice is also to support Venice financially and each book gives a percentage of every sale to a not-for-profit that strengthens the city. For "Dream of Venice" it is Save Venice, and for "Dream of Venice Architecture" it is Fondazione Querini Stampalia.
Starhotels Splendid (& Le Maschere restaurant): www.starhotels.com
Palazzina G (& PG'S Restaurant): www.palazzinag.com
Hotel Luna Baglioni (& Canova restaurant): www.baglionihotels.com
Aman Venice (boutique hotel): www.aman.com
Lisa Gerard-Sharp is an award-winning travel writer whose work, including blogs, can be found on www.lisagerardsharp.com