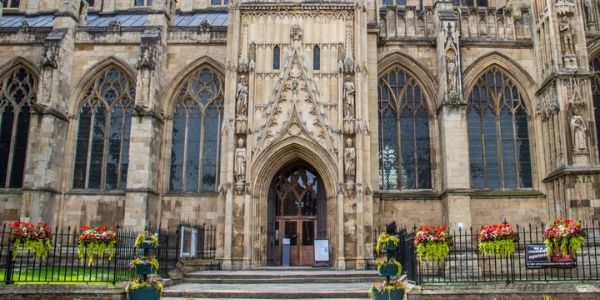 Unravelling the Mysteries of Medieval Church Architecture – a Special Interest Holiday
I've always been impressed and drawn to church architecture, but I've never known quite where to begin when it comes to learning more.
I decided to immerse myself in the architecture lingo by taking what's called a 'special interest holiday'.
Special tour operators organise a variety of 'special interest' holidays relating to an impressive list of topics from opera to medieval-church architecture.  I've even been on a photography holiday to Iceland! So, whatever your interest, there's probably a 'special interest holiday' waiting for you!
It was a wonderful experience to be guided by an expert around the cathedrals and abbeys in Northern England.
Find out more about what I learnt from going on a special interest holiday, below.
No experience necessary – understanding church architecture
I expect many people, like myself, on arriving in a cathedral city make point of visiting the cathedral.
But if I'm being honest, I don't really know what I'm looking at.
Terms like 'flying buttress' and 'decorated gothic' were a foreign language.
So, to learn more about medieval cathedrals, I joined a special interest holiday to experience new destinations, meet new people and learn more about this topic.
One of my biggest concerns was being a novice among a group of experts. I need not have worried as within a few minutes of meeting the group at our hotel, everyone was soon chatting with each other and there was an air of excitement about the days ahead.
This trip included visits to seven renowned buildings from the Medieval period.
We were accompanied by Jon Cannon, our own excellent expert on the subject of medieval architecture.
York Minster – conveying messages through decoration
Based in York, first on our list was York Minster, which is Britain's largest Gothic cathedral.
I felt a tingle of excitement as we emerged from the narrow cobbled streets of the old town in front of this magnificent building.  As we stood outside the West Entrance, originally only opened on special occasions, I found myself being transported back to another era as Jon talked about the façade of this building.
During the Medieval period, that stretched from the late twelfth to the early sixteenth century, the church was all-powerful throughout Europe.  Its clergy were the only literate communities and spoke the common language, Latin. Its mission was to convey the message of Christianity to a mainly illiterate population. This was done through the construction of cathedrals, abbeys and parish churches, all decorated with elaborate carvings and stained glass windows.
The church was also very wealthy as people gave money and land to the church to help ease their passage to heaven.  All this we found illustrated in the Minster which exhibits some classic Gothic architecture on its exterior and some exquisite stained glass windows inside.
Beverley Minster
Our second destination was Beverley Minster.
As it was market day in the town we had time to browse the stalls and have a coffee before making our way to the Minster.
The beautiful interior of this building is decorated with columns of Purbeck marble.  When the Romans occupied Britain, they had pin-pointed the best places for building stone in Britain – a fine legacy for the creators of our cathedrals and abbeys.
During our visit I learnt that this Minster features three stages of Gothic architecture which evolved over the centuries.
The Early English Gothic was followed by the abundant carvings of Decorated Gothic.  The last phase was Perpendicular, illustrated by the porch at the town entrance.
Thanks to Jon's clear and interesting explanations, I was beginning to appreciate the intricacies of Medieval architecture.
Lincoln Cathedral
We had our own bus to travel between destinations.
Jon used this time to talk about the geography of the areas as we drove through and the reasons the cathedrals and abbeys were built on the sites they occupy. These were fascinating topics on their own.
On arrival in Lincoln we had some time to explore the town before visiting  Lincoln Cathedral.
Lincoln Cathedral, perched on the only hill in the town, was built as the Romanesque style of architecture giving way to Gothic.  I could now, with my new found knowledge, easily identify the semi-circular arches associated with the Romanesque period on its West front.
Rievaulx Abbey
I was particularly looking forward to visiting Rievaulx Abbey, our destination the next morning, and it proved to be my favourite place on the tour.
It was a glorious day and the proud, roofless ruins rising up into the blue sky was a memorable sight.  Jon had already introduced us to the Cistercians – a breakaway group protesting against the traditional Benedictine style of monastery.  We wandered through the ruins learning about their self-sufficient, regulated existence supported by a large number of lay brothers who worked on their farms. It is a relatively small site and we were soon on our way to our next stop.
Durham Cathedral
The imposing Durham Cathedral, a Norman building in the Romanesque style is one of the best examples of this style throughout Europe. It was founded as a Benedictine monastic cathedral and was built to house the shrine of Saint Cuthbert.
It is one of the places where the rib vault, that subsequently transformed Medieval architecture, was invented.  Because of this, it was designated as a UNESCO World Heritage site as early as 1986.
My favourite feature of this cathedral was the cloisters, – a covered walkway around a grassy quad.  As I strolled through them I enjoyed glimpses of the steeple rising above me.
Ripon Cathedral
The Gothic Ripon Cathedral, was originally built as a collegiate church to support the huge diocese of York.
It finally achieved cathedral status in the post-Reformation period. It was here that I first came across the misericord.
Our Medieval churches were built when England was Roman Catholic. The services were processional and no-one was allowed to sit down. To alleviate any suffering this caused, little wooden shelves were built in the choir. These were dropped down to be used as a seat. The underside of these wooden shelves were elaborately carved, As the wood carvers were often given a free rein, these carvings could depict anything and were often humorous and profane.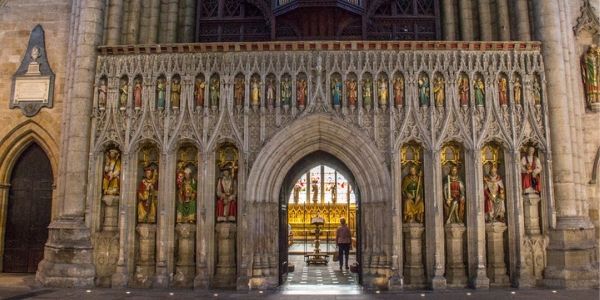 Fountains Abbey
The last place on our itinerary was Fountains Abbey, another abandoned Cistercian monastery.  I enjoyed the walk through the parkland down to the valley in which it was built. This site includes a grange or farm where the lay brothers would work, supervised by the monks. It was a very pleasant end to an excellent holiday. It was a joy to walk around these magnificent buildings and to learn about the architecture chronologically rather than simply having the highlights pointed out to you.
By Valery Collins www.experiencedtraveller.co.uk