Christmas Recollections of Northern Italy
One of the many joys of my job is the Christmas trip – a chance to experience seasonal celebrations with different cultures.  My favourite Christmas destination is Northern Italy.  The first time I spent Christmas here I was based on Lake Garda.  Reputed to have a Mediterranean climate on this occasion the temperature plummeted and it snowed.  I was glad I had some ski wear in my suitcase.  Snow-covered tropical plants around the lake enhanced its natural scenery and provided an ethereal back drop to the Christmas lights.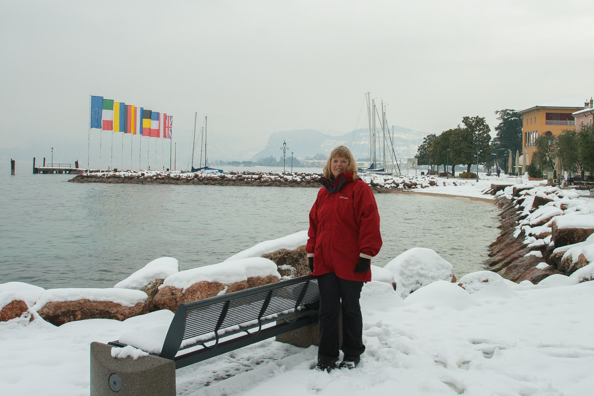 We stayed near Bardolino where Christmas celebrations were in full swing.  The Christmas market http://www.gardaconcierge.com/en/bardolino-christmas-markets-from-the-6th-to-the-6th/on the lakeside was in full swing with visitors crowding around the little stalls.  A temporary ice rink was entertaining both for the young and not so young some of whom were pushing giant penguins across the ice.
Our trip included a day in Verona – a very joyful experience.  As soon as I entered the main square, Piazza Bra, I was entranced by the comet that was flying out of the famous Roman amphitheatre, the Arena, and landing in the square.  The Arena http://www.veronaguide.it/en/christmas-in-verona-2016.html itself was hosting the annual exhibition of crib scenes from all over the world.  Every church in the city featured a different nativity scene but most lacked the Baby Jesus who would arrive at midnight on Christmas Eve.  I thought this was a lovely touch.  Piazza dei Signori (also known as Piazza Dante) was crammed with the wooden stalls of a traditional German Christmas market.  I could not resist the freshly baked doughnuts and perched on some steps as I munched my way through one.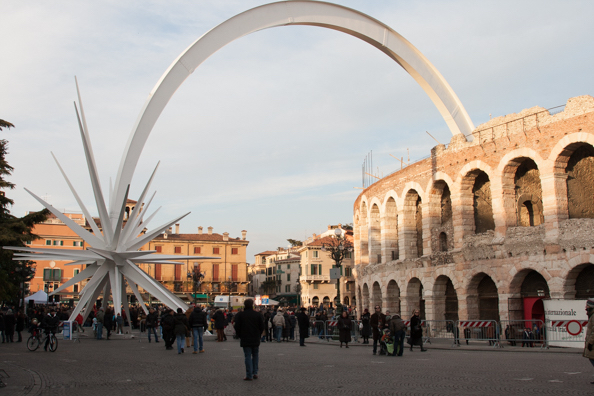 Lazise was also on our itinerary and we entered through an archway in the old medieval walls and made our way to the small port and the old church of S. Nicolò.  Inside was a beautiful nativity scene featuring the village.  Every year the local inhabitants construct a different scene.  I stayed there for a long time admiring the astonishing attention to detail.  As I watched, night turned to day and then to night again…
In Garda I browsed the small handicraft stalls by the lake and also watched a rowing competition taking place on the lake.  The rowers stand up when they wield the oars and there appeared to be very complicated rules as it was impossible to work out who were the victors.  But they all seemed to be having a great time.  As dusk fell a warming glass of Glühwein (vin brûlé) was very welcome before strolling back into the town along streets strung with white lights.  Garda features a nativity trail with life-sized biblical scenes on either side of a path by the lake some incorporating a bridge over a stream.  These scenes were both interesting and entertaining, especially those featuring large stuffed animals including donkeys and camels.  These well-worn creatures looked as though they had spent the last eleven months as somebody's favourite toy.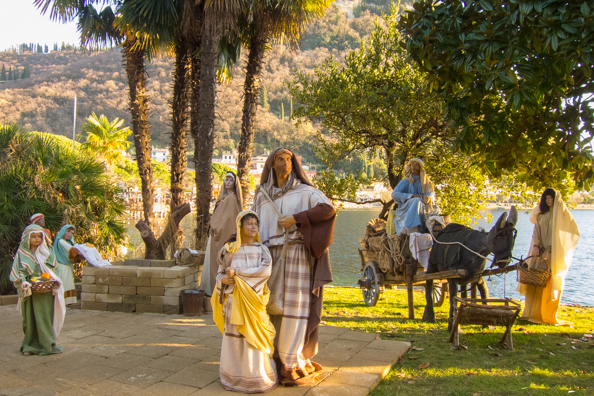 During the Christmas period the Scaglieri Castle at Malcesine is taken over by Father Christmas and his elves and it becomes his workshop.  Visitors are still welcome to explore the whole castle and I took advantage of this climbing right up onto the roof where I had wonderfully clear views of the lake around me.  I strolled back to the bus stop along red carpeted cobbled streets lined with the stalls of a Christmas market.
I have visited Verona and Lake Garda regularly since that first experience but that was my only white Christmas experience.
Wether you are visiting a Christmas market during a long weekend trip or travelling for longer then don't forget your travel insurance – our Quickcover and European Travel Insurance are both ideal depending on your trip duration.
By Valery Collins www.experiencetraveller.co.uk