With more people travelling again, we're getting questions from customers about how travelling with children has changed since Covid. 
To put minds at ease and add a little insight, we've answered some of the most common questions about travelling with children and grandchildren below. 
Do children need a Covid vaccine to travel?
Whether children need a vaccine depends on the country you're travelling to. The easiest way to tell is by checking the FCDO travel advice and entry requirements for your holiday destination.
Where can children travel to if they are unvaccinated?
Unvaccinated children can travel to a number of countries across the globe, including popular tourist destinations.
It's important to check the FCDO advice about the country you're travelling to, just so you're familiar with the entry requirements and what vaccines visitors need to have.
Do children need a COVID pass to travel?
Just like adults, children above five need a COVID Pass to gain entry to countries that require them to be fully vaccinated.
Those between five and 11 will need a copy of their COVID Pass Letter to travel, while children 12 and above can get theirs online.
Check the entry requirements for the country you're travelling to, this will let you know whether children need to be vaccinated and/or show a COVID Pass.
Are children covered by travel insurance for Covid-related claims?
Yes. Covid Cover is included as standard on our policies, so everyone named on your travel insurance is covered for Covid-related claims, including children of all ages.
To be covered by our policy, your child or grandchild will need to be up to date with any Covid-19 vaccines that have been offered to them.
If your child or grandchild is medically exempt from taking the vaccine we can still cover them.
Are children covered for Covid-related claims if they've only had one vaccine?
To be covered by our travel insurance, you need to have had all of the Covid vaccines you've been offered. This applies to children, too.
Children (like adults) can also be covered for Covid-related claims if they have received no doses of the vaccine due to a medical exemption.
If a child gets Covid before we travel, can I make a claim?
If you're unable to travel, you'll first need to contact your travel provider to see if they can rearrange the dates of your trip. If they can, we can help by changing the dates on your policy to match.
If you have no luck rearranging your holiday, you can make a claim under the cancellation section of your policy, just as long as your child has tested positive for Covid-19 within 14 days of your travel dates.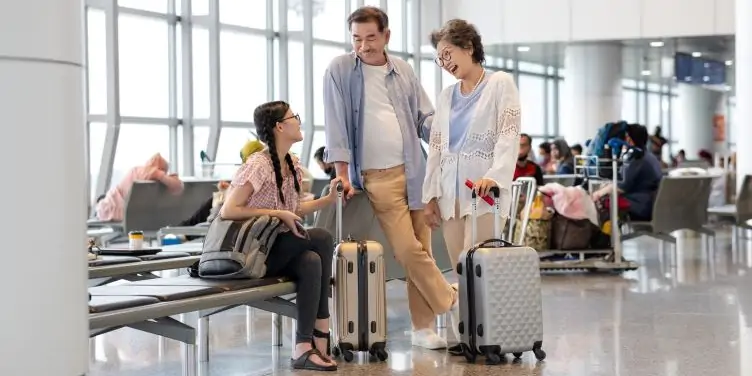 Tips for travelling with children 
If you're taking a trip with the family soon, these tips might come in handy.
Queues at airports and ports may still be longer than normal, so it's well worth bringing extra things to keep your children distracted.

Brush up on the

FCDO advice

and entry requirements for your destination. Things can change quickly, and the rules for children can be different to adults.

Make sure to have at least six months remaining on your passport. Many will have run down over the last couple of years!

The UK left the EU at the start of 2020, which might be more recently than many have travelled. The main difference is that the GHIC replaced the EHIC, so you still need to make sure you have one health insurance card valid. Find out more about

how Brexit has changed travel here

.
Protect your children and grandchildren with family travel insurance
If you're going away as a family and want to make sure that everyone's covered, why not choose family travel insurance?
Family travel insurance can provide protection for one or two partners and up to two children under 21 in full-time education from the moment your cover starts.
Grandparents can also travel with their grandchildren with a group travel insurance policy.