Castles and Camping in the Beautiful Bavarian Alps
It was after my fiancée and I had both read a book by the author Chris Kuzneski that we really started making plans to visit Bavaria and the beautiful fairy tale castles there. The Secret Crown tells some of the story of King Ludwig II's intriguing life and mysterious death. The flamboyant King of Bavaria was the person who made his dream of a fairy tale kingdom a reality, building castles and palaces which would become places for him to retreat to once his power had been stripped away from him following war in the area. Creations which all but bankrupted him too.
We decided to camp in the area, as we really wanted to enjoy being in this beautiful scenery, become a part of it, breath it all in and make the most of it. We also found flights with Lufthansa to Munich which included checked luggage in the price. This meant we would be able to take our tent and camping equipment with us, really making it an affordable trip. We found an awesome campsite around 10 minutes from Neuschwanstein Castle in the foothills of the Bavarian Alps called Campingplatz Bannwaldsee. We were able to book our pitch on their website, everything was easy.
When we arrived we were completely blown away by the beauty of the area – it was everything we had expected and much, much more. Sleeping in the crisp mountain air, waking up with a real sense of adventure ready to explore – it was the perfect way to experience Bavaria!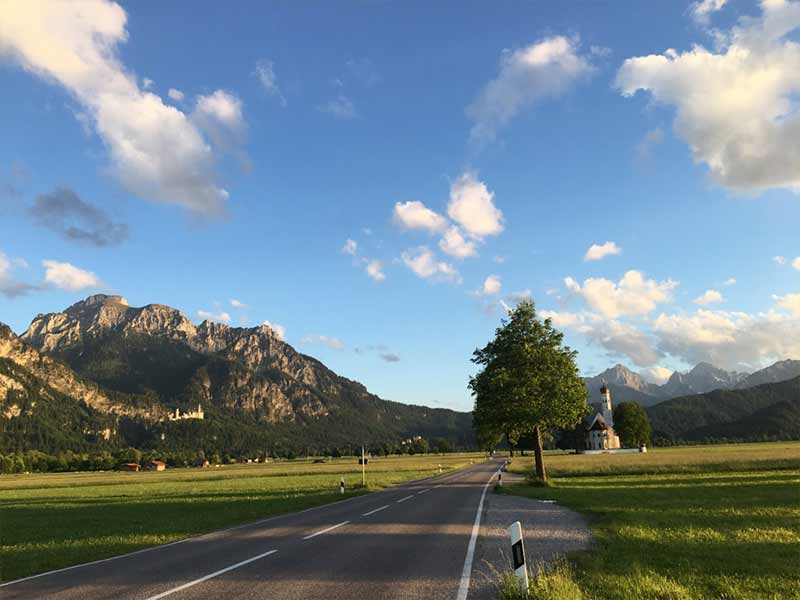 We visited Hohenschwangau Castle, the summer home of the Bavarian Royal Family built by Ludwig II's father. We also visited Neuschwanstein Castle, the very place that gave Walt Disney the inspiration for Sleeping Beauty's castle, and finally Linderhof Palace, nestled in between mountain peaks, where Ludwig II was able to get away from everything and the only one of his creations which he lived to see completed.
At Hohenschwangau Castle, a ticket can be booked which includes visits to Hohenschwangau and Neuschwanstein Castles combined. Entry to the castles are as part of a guided group only and you are given designated time slots, it's all very efficient! It all works really well too, you have the space and time to enjoy the visits and it doesn't get crowded, unlike a visit to somewhere like Versailles.
As we waited for our entry time, we explored the gardens around the castle. With the bright blue sky, bright coloured flowers, fountains and hot sun beating down, it felt as if we had been transported to somewhere tropical, somewhere which would not of felt out of place in Andalucia. Inside we were treated to an insight of everyday life of Ludwig II growing up and some of the things which gave him inspiration for his creations in later life. Don't skip a visit here, it really is a great introduction to what, for many, is the main attraction, Neuschwanstein.
The stories set here and about this place are legendary, and to think that King Ludwig II had ordered for it to be destroyed following his death! I wonder what the man who enjoyed solitude so much would make of his creation being one of the most recognisable and most visited tourist destinations in the world! The walk up the hill to the castle certainly got my heart pumping, but the journey can also be enjoyed on a horse drawn carriage if you don't fancy tackling the hill. Carry on a few minutes past the castle and you arrive at Marienbrucke. A bridge which spans the gorge that the castle reaches towards the sky from. The bridge where the best views of the castle can be enjoyed!
Ludwig II took inspiration for much of the decoration of the interior from the operas of Wagner, who had become his close friend. The guides are so knowledgeable and seem to really enjoy what they do, sharing the stories of these unbelievable places. We loved our time here.
The setting of Linderhof palace is spectacular, surrounded by rugged mountain peaks which almost feel like they are fencing off the palace, keeping the rest of the world outside. When Ludwig II lost most of his powers as King of Bavaria, he became more and more of a recluse, keeping the idea of his righteous fairy tale kingdom alive in his mind. It is easy to imagine how Ludwig II would feel like he was away from everything here. At Linderhof Palace he even created his own hall of mirrors, a much smaller copy of the original at Versailles, as well as a hidden Venus grotto complete with swan boat to sail around the underground lake there. If Ludwig II was an impressive person for any reason, it seems to me that it was the ability to put these dreams into reality and create these incredible places which no doubt will be the settings for many more great stories for hundreds of years to come.
Happy Travels – Tom @ My Travel Mission www.mytravelmission.com