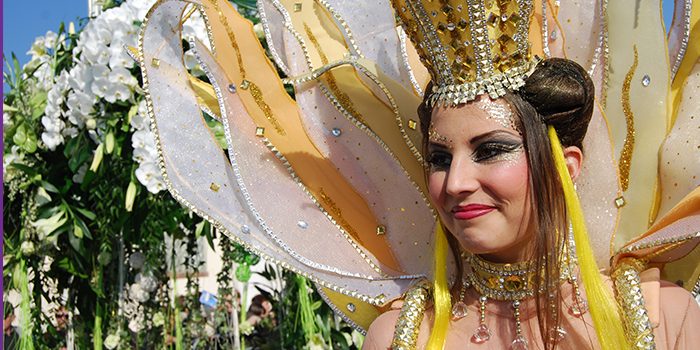 Carnival on the Cote d'Azur
The French Riviera wakes up when golden clouds of Mimosa flowers turn winter into spring and the carnival season is in full swing.  When the scent of blossom fills your nostrils, it's time to head for the hills and explore the seductive perfume trail. But first dip into France's slickest carnivals, the Menton Lemon Festival and Nice Carnival itself.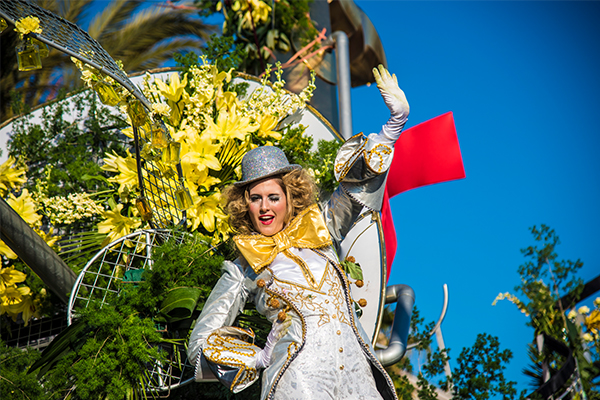 Credit: OTC Nice
Carnival cavalcade
It's time to let the carnival season banish winter gloom. Be ready to dream in yellow. Mimosa is a symbol of the south of France in winter, with golden blossom signifying the triumph of good over evil. Indirectly, this blaze of blossom is all our doing. Imported from Australia by the British in the 1880s, mimosa lights up Riviera carnivals all February and sets the hinterland ablaze until late March. Wintering on the Riviera was all the rage and the Victorian upper classes were partial to a bit of fluff to boost their spirits. Even if we're now sun-seekers, winter on the Riviera can still be a ball at carnival time.
Compared with sexy Rio de Janeiro, what Riviera carnivals lack in bare-breasted Latino verve, they make up for in style and sheer exuberance. Expect confetti, crazy costumes and drag queens tottering around in platform shoes. Expect to be drowned in fluffy yellow flowers and to down fluffy flower liqueur as if you loved it. (It tastes like liquid candy floss). Expect flower-bedecked floats, balletic tumblers, bold rappers, hip hop street-dancers, tightrope walkers and top-hatted horsemen pelting rivals with lemons. Expect promenading poodles dressed in designer jackets (that's their normal attire). Expect to dance with the Wizard of Oz or a giant orange. Expect the unexpected: this year, Nice Carnival even boasts Rocket Brexit, shooting off into space alone, leaving the Euro-galaxy forever.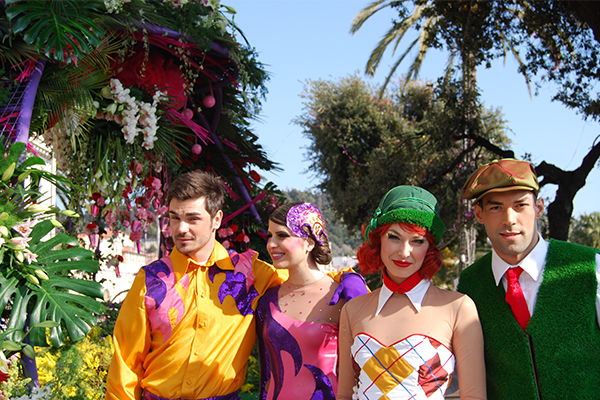 Credit: Lisa Gerard-Sharp
Riviera lifestyle
Carnival is also an excuse to indulge in the Cote d'Azur lifestyle, from café culture to sunny strolls along the seafront. In Nice, Carnival is a very Riviera affair, with honey-toned Nicoises chatting on café terraces, with one well-manicured hand on a cocktail and the other on a preening poodle. But beyond the upper-crust parody of `the good life,' there is a hard-crust base, a simple lifestyle shared by all. This is typified by the chickpea pancakes on Cours Saleya in Nice – in a market awash with Moorish spices, Mediterranean herbs and mimosa in bloom. You won't spot Elton John or other celebrity residents posing here but you may meet Theresa, the queen of socca, maker of that salty, pizza-like snack beloved by the Nicois. Under the watery winter sunlight, I join the locals around trestle tables and chat over a glass of rosé and slice of socca, served from a sizzling pan by Theresa, a born show-woman.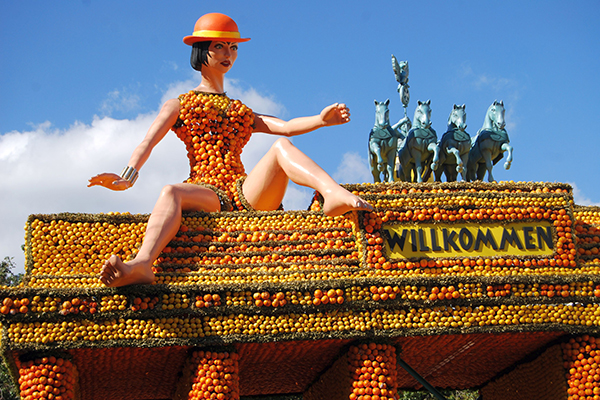 Credit: Lisa Gerard-Sharp
Menton Lemon Festival
Known as the Fete du Citron, the Lemon Festival is Menton's most popular event and is one of the wildest parties on the Riviera. Queen Victoria attended the Lemon Festival in 1882, when it was far tamer, but it really took off in 1929, when a proper lemon parade was launched. Today's festival is a charming mix of madcap celebration and sleepy seaside resort.
Around a quarter of a million people head to the festival every year and witness creative displays featuring 150 tonnes of citrus fruit. The festival features processions of floats, seafront night parades and golden fruit parades, as well as showcasing the gardens at night. Despite the crowds, Menton still manages to feel like a home-grown festival, with citrus stalls run by local growers with time for a chat. At heart, Menton still seems like a Victorian dowager, with modest habits and a sedentary life. The mellow mood continues in the Italianate old town, painted in pastel shades that look tasty enough to eat.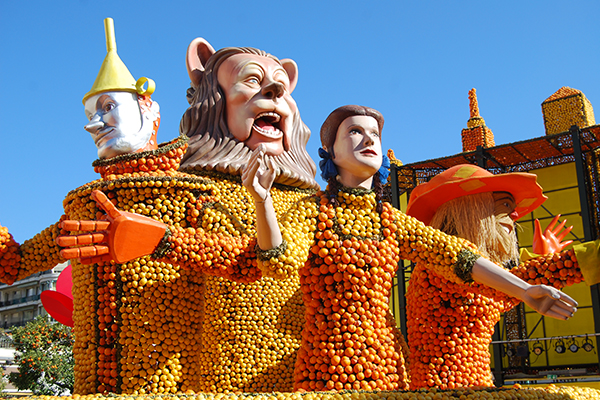 Credit: Lisa Gerard-Sharp
Hollywood, Bollywood?
The Lemon Festival, which runs until early March, is embarking on a Bollywood theme this year. Last season celebrated Broadway, with film characters dancing along a lemon-lined Yellow Brick Road. Even better than the parades of lemon-studded floats are the gardens, which showcase extraordinary thematic sets all made out of citrus fruit.
In the lemon-scented gardens, I last encountered a crazy Wizard of Oz, cheery Mary Poppins and Cabaret, Berlin's decadent Kit Kat Klub. Any decadence was softened by the blue skies, palm trees and the comic effect of so much citrus fruit, all used to create the giant displays. The Bioves gardens are also magical when illuminated as `the garden of lights' – even if I was squeezed between so many partying lemons that I almost became juice, a citron pressé. For now, I'm on board for Bollywood musical melodrama, with no escaping lemon mania.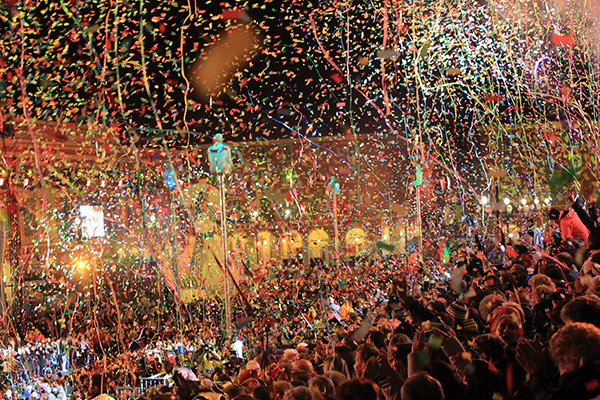 Credit: OTC Nice
Nice Carnival comes to town
Nice is the carnival king, not only France's slickest winter festival but the loveliest destination for lapping up the Riviera lifestyle. The setting is seductive, from the sinuous Promenade des Anglais to the Paillon gardens and Place Massena, the backdrop to the boisterous carnival parades. Since the Nice terror attack in July 2016, city security is now tight, with no fireworks or fake weapons permitted at carnival, nor crazy foam sprays.
This year's carnival theme is the King of Space. It is billed as "the first British space mission, with a one-way ticket." Clad in Union Jack flags, the astronauts are armed with little more than a Big Ben rocket and a handful of retro red telephone boxes as rocket fuel.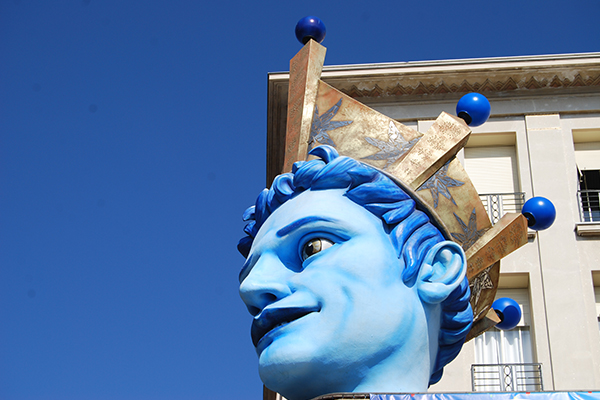 Credit: Lisa Gerard-Sharp
Big-headed Carnival?
Nice carnival is Europe's best choreographed affair. Think: twenty tonnes of confetti, 17 stunning floats, 50 giant heads, over 100,000 fresh flowers, and over five tonnes of mimosa. The show is presented by a cast of 1,500 street performers and 2,000 helpers. The celebrations, which date back to 1294, involve a cast of thousands, from students to florists, costumiers and beauty queens. The Carnival Queen reigns for a year, representing Nice. As Aurelie, a former queen, tells me, "Being a Carnavalier is a passion, a calling."
The crowds in the stands are whipped into a frenzy by red-jacketed teams of high-fiving street artists. Flower-bedecked floats and satirical scenes parade past, accompanied by processions of clownish jugglers, whimsical mime artists and tightrope walkers dressed as pot-bellied lemons. Overhead fly fantastical floating dragons and the red-and-black eagle of Nice, the city emblem. In a nod to Riviera heritage, the Great Gatsby set might step onto the scene, with supreme insouciance, reminding us that the glamour of the Riviera was fashioned by the British and the Americans.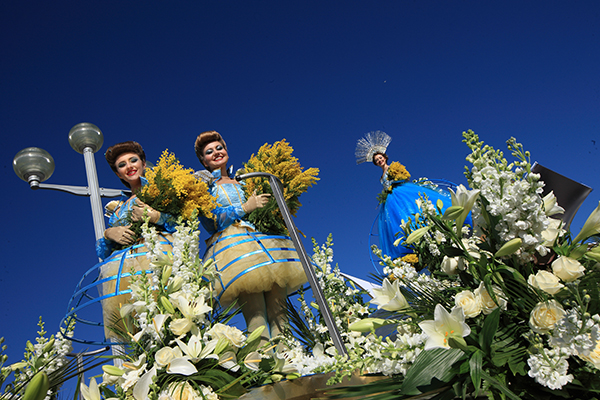 Credit: OTC Nice
Battle of the Flowers
The `Battle of the Flowers' is the most poetic parade, a tribute to the foothills that have long produced scented roses, mimosa, violets and orange blossom. The Promenade des Anglais provides one stretch of the parade of flower-bedecked floats, led by the fairylike Carnival Queen, who tosses bunches of mimosa to her fans. Rival troupes throw gladioli and carnations into the waving crowds while children in the stands conduct their own fierce battles with streamers and confetti. Ballerinas dressed as roses pirouette past sunflower contortionists spinning like tops. Surprisingly graceful papier-maché giants dance over the floats, keeping time with the street bands. The talented florists have only 72 hours in which to decorate the vast floats with flowers that reflect each designer's chosen theme – and each of these two-tonne monsters can be twelve-metres high. As the chief florist tells me, `It's an ephemeral art, but so, too, are food and love.' How very French.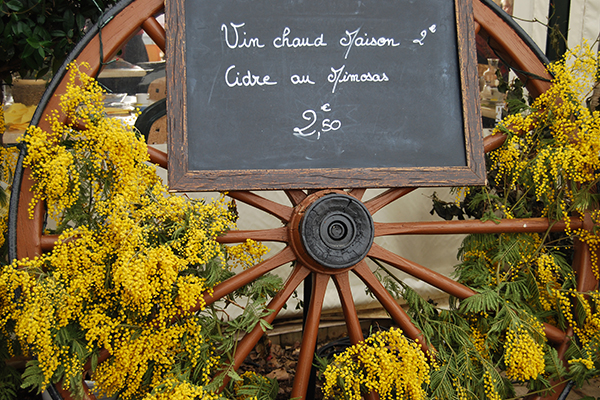 Credit: Lisa Gerard-Sharp
On the Mimosa trail
Time to head into the hills to explore perched villages awash with fluffy mimosa and drunk on floral liqueurs. The mimosa trail is a symbolic blaze of yellow sunshine in the depths of winter. For Provencal joie de vivre, be beguiled by the flower parades stretching from the mimosa-cloaked hills to the Esterel coast. Running from Grasse to Bormes-les-Mimosas, the Route du Mimosa takes in ten villages which all party with flowers.
My foray to the coast takes in the Mimosa Festival at Cannes-Mandelieu. This quirky carnival sees a scary Cannes drag queen presiding over stilt-walking, flower-hurling and liqueur-quaffing. Military trumpeters wear mimosa sprigs in their helmets and trumpet away outside Chateau de la Napoule, a medieval castle restored by arty American sculptors in 1918.
This scenic back-country drive also embraces floral feasts, from rose cocktails, mimosa liqueurs and jasmine teas to stuffed courgette flowers, edible pansies and mimosa tarts. If edible pansies are not your thing, tuck into the rack of lamb with lavender and rosemary.
Yet mimosa's candy floss pompoms also help prop up a prestigious perfume industry. Mimosa's light, floral scent is found in famous perfumes such as Chanel N°5, Givenchy's Amarige, Guerlain's Champs-Elysées and Jo Malone's Mimosa & Cardamom Cologne. I vow to return to this sweet-scented trail to visit the perfumeries and flower fields around Grasse, the world's perfume capital. Grasse flowers with the seasons, from mimosa and violets in winter to orange blossom and roses in spring. But for now, I'm all flowered-out.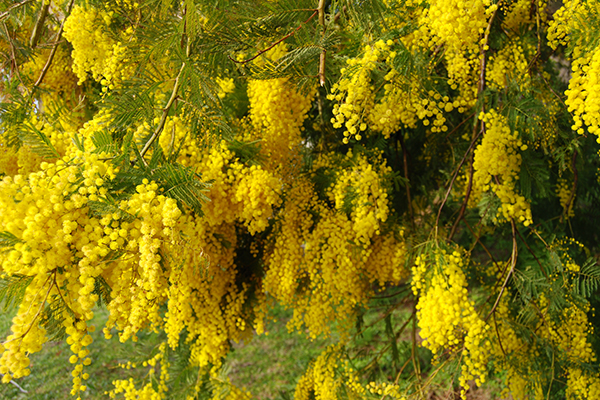 Credit: Lisa Gerard-Sharp
Festive Fun:
Festivals: Fete du Citron (Lemon Festival), Menton: www.fete-du-citron.com
February 17th – March 4th.
Nice Carnival: February 17th – March 3rd: www.en.nicecarnaval.com
Nice tourist board: www.en.nicetourisme.com
Menton tourist board: www.tourisme-menton.fr
Grasse tourist board: www.grassetourisme.fr
Perfume Museum, Grasse, MIP: www.museesdegrasse.com
Les Rosees, Mougins (boutique guesthouse): www.lesrosees.com
Lisa Gerard-Sharp is an award-winning travel writer whose work, including blogs, can be found on www.lisagerardsharp.com