Briton flies almost 30,000km in five days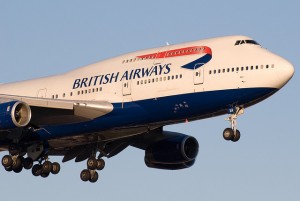 A British jet-setter has earned special status from British Airways after over 18,000 miles in just five days, an extraordinary feat which he completed using 12 different flights.
Globetrotting Adam Rowland from Epping began his journey from London City, heading to Amsterdam before clambering back on board another plane headed for Heathrow. His journey then took him across the Atlantic to the Americas, visiting Boston, Los Angeles, Honolulu, back to Los Angeles, Washington Dulles, Charlotte and New York, before returning to Heathrow. He then flew to Amsterdam before returning to finish his epic journey back at London City.
Although Adam didn't pencil in any trips away from airports during his high-altitude itinerary, we recommend that you look into our travel insurance packages for over 70s if you are planning any journey abroad.
With Adam documenting every aspect of his mammoth trip through his blog, it wasn't long until British Airways found out. James Hiller, the Executive Club manager at British Airways, said: "'A member of our team at British Airways spotted Adam's blog and [we followed] him as he crisscrossed the Atlantic."
Adam earned gold card upon his return
The incredible journey, which encompassed just shy of 30,000 kilometres, was commemorated by British Airways in the best possible manner, with Adam receiving a bottle of champagne and a gold card from a British Airways ambassador upon his return to London City Airport.
Considered one the best cards to take to the skies, the British Airways gold card offers a host of benefits, including access to first class lounges, and priority boarding and check in. Members also receive discounts from partner corporations of British Airways, such as Langham Hotels and Mandarin Oriental.
If you are keen on replicating a trip of this magnitude in return for the revered British Airways gold card status, be sure to book comprehensive multi trip travel insurance cover just in case any flights are delayed or cannot be fulfilled along the way.
Image Credit: BriYYZ (Flickr.com)