Avanti win award at 2015 British Travel Awards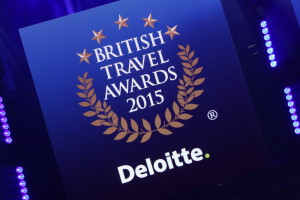 We at Avanti Travelcare are proud to announce that we have won the Bronze award in the Best Travel Insurance Provider category at the 2015 British Travel Awards.  The announcement was made on 25 November at a glamorous Gala Awards ceremony, held in London and attended by close to a thousand travel industry personnel.
British Travel Awards' chief executive Lorraine Barnes Burton said: "More than a quarter of a million consumers voted this year to determine the winners of the 2015 British Travel Awards – it's the largest awards programme in the UK and to win is a clear statement that companies are providing excellence in travel to the discerning consumer.  The travelling public regard the British Travel Awards winners logo as the benchmark for excellence when it comes to finding out who are the best travel companies and Avanti is to be congratulated on their achievement."
Glen Smith, Chief Executive of Avanti Insurance said "We are so proud to have been presented with such a prestigious award. Our focus is on customer care and service, and it is a testament to the hard work of the staff that the public hold us in such high esteem within the industry."
We would like to thank everyone who voted for us for this prestigious award!