Bring on 2015: A healthy New Year nailed
New Year's resolutions have an unfortunate and often undeserved bad reputation. Too many of us, no matter our age, struggle to keep our resolutions past the 7th January and with the cruise holiday travel insurance already bought for post-Christmas breaks looming, the most popular resolution of them all is often the most difficult to keep.
Doing more exercise and improving fitness was the most popular New Year's resolution last year with a result of 51 percent of those surveyed, which places it above giving up smoking (14 percent), saving more money (30 percent) and even losing weight (47 percent).
With that in mind, to give you the best possible chance of keeping your fitness resolution this year we have put together some of the best fitspiration, advice and technology so that you can have a very healthy New Year. So instead of feeling glum that you've succumbed once again to the allure of the Christmas box set and chocolate combo, have a read of this guide so that you can enjoy your 2015 holiday having 'nailed it!'
The device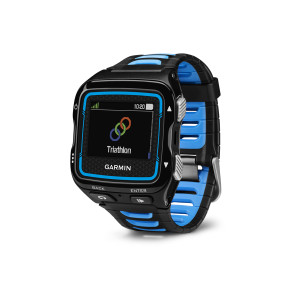 Keeping resolutions is hard, which is why many turn to technology and devices when it comes to fitness and motivation in the hope that they can encourage good habits.
As the king of GPS, Garmin's Forerunner devices are among the best running watches on the current market. The latest edition, the Forerunner 920XT boasts the same great GPS tracking features as its predecessor as well as race predictor, swim distance and smart notifications among other great new features.
"As a pioneer and leader in GPS multisport watches, we're excited to introduce our most advanced, all-in-one solution for triathletes and multisport athletes. Recording in-depth metrics for swimming, cycling and running, tracking daily activity, while keeping users connected, the Forerunner 920XT is ideal for training, racing, and everything in between."
–          Dan Bartel, Garmin's Vice President of Worldwide Sales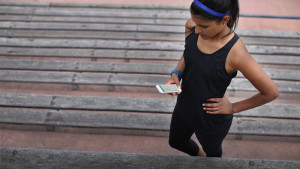 Just because you're getting fit doesn't mean your device can't be Christmas present-worthy and utterly glamorous. The Tory Burch collection from performance fitness product manufacturer Fitbit is a stunning example of how fit doesn't just mean healthy in this day and age, but also so on trend. Fitbit's ideology is one that goes hand-in-hand with the concept of keeping the New Year's resolution, where they believe that you're more likely to reach your goals if you're encouraged to have fun, smile and feel empowered along the way.
Fitness doesn't have to be all about the gym; watch specialists Nixon have come up with a great gadget to help surfers really stay on top of their fitness, catching every wave they can with the Nixon Supertide. This high-tech watch makes sure you know everything you need to know, making sneaky surfcam checks at the office a thing of the past.
Location giants TomTom has launched two Cardio GPS sport watches with cutting-edge heart rate technology.These fitness watches allow you to see real-time running information from the convenience of your wrist.The TomTom Runner Cardio and TomTom Multi-Sport Cardio are both equipped with the very latest in heart monitoring technology, so you can be sure you won't be putting your medical travel insurance policy at risk whilst working towards your holiday and fitness goals.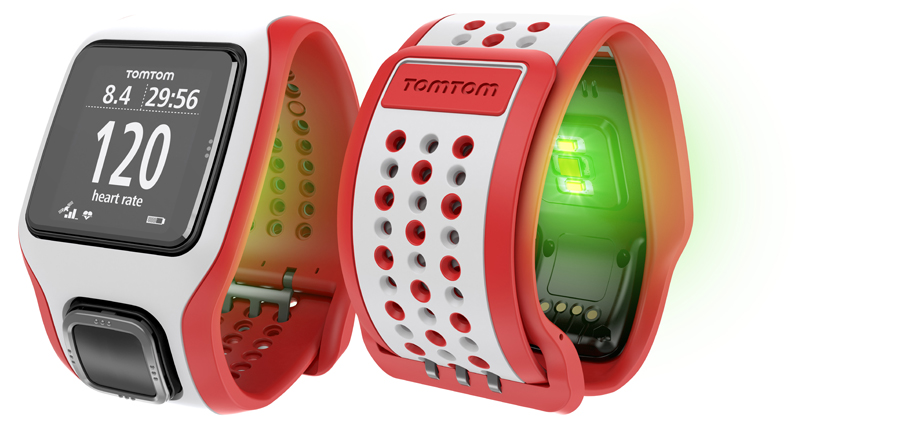 "We know that heart rate monitoring is the single most accurate way to understand how the body is responding to exercise. Now, with the launch of the TomTom Cardio, all runners can easily use heart rate training to improve their performance."
–          Corinne Vigreux, managing director, TomTom Consumer
Looking to take up multiple sports and activities this New Year? Then the Nike+ FuelBand from Nike is a good choice. Tracking your active life with NikeFuel, it measures your whole-body movement no matter your age, weight or gender.
The app
As well as devices, there are plenty of free and reasonably priced smartphone apps that can help you on your way to New Year fitness happiness.
The NHS Choices Couch to 5k app is perfect for those who want to actually start enjoying running as well as just giving it a go. This great app for running novices does exactly what it says on the tin and helps you get from the couch to running 5k comfortably before you know it. Made up of great motivating podcasts, this free to download app is a must.
Think you can't achieve you New Year goals without the help of a personal trainer, but can't afford the session plan? Then Endomondo offers the perfect solution. Acting as a personal trainer in your pocket, Endomondo is the free app and website that makes fitness fun and helps you to stay motivated, even during those cold and dark January mornings.
'Endomondo – who we are and what we do:
Our mission is to motivate people to get and stay active. We do this by making it more engaging, more social and more fun to exercise. We all know exercise is essential for having a happy, healthy life, but it isn't always easy to get motivated to get active. We've designed the Endomondo app to help make working out more engaging with many motivating features. Our app is designed to track your workouts, provide audio feedback along the way and offer guidance on how to reach your goal. It's a free personal trainer in your pocket which syncs with Endomondo.com, where you can access a full training log and analyse your fitness activity.'
–          Endomondo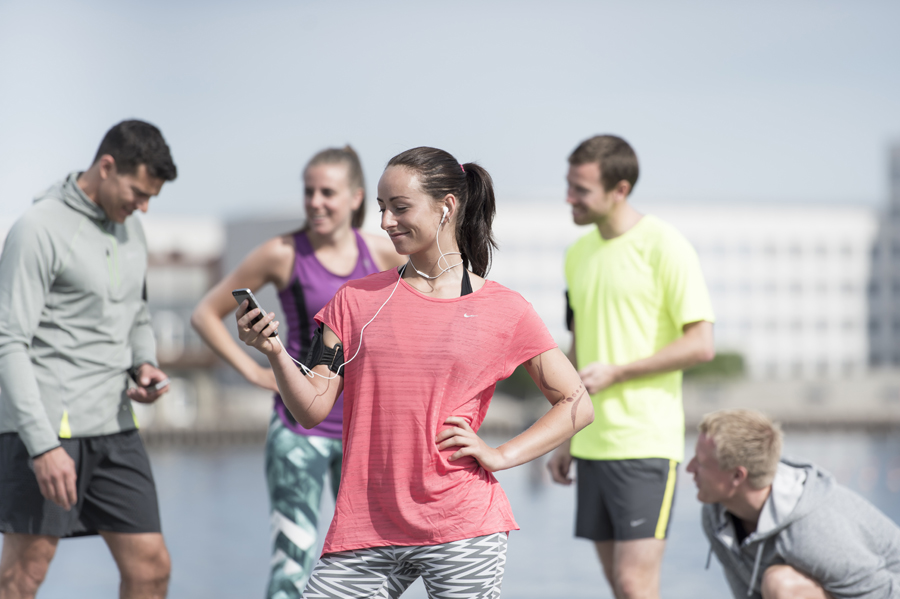 The app is also great for travelling as you don't need a phone signal or data network connection to track your workouts with your Endomondo Sports Tracker app, meaning that you can carry on working on your New Year's resolutions whilst on holiday. They have also recently launched their first all-day activity tracker, Endomondo Life, which helps you monitor your daily activity even when you don't actively track your workout.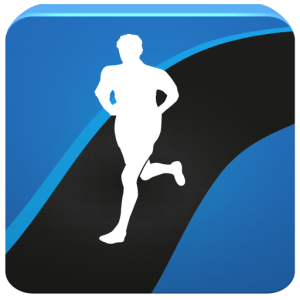 Runtastic apps are available for download across iOS, Android, Windows Phone and BlackBerry and provides a sports tracking and management solution to suit everyone. Their app portfolio is as varied as its users and really helps you stay focused; the fantastic playlists really help spur you on. You can track your activities and compare with others or just keep your performance to yourself for now and with a whole range of trackable activities, from weight training and horse riding to sailing and badminton, you will be using it more than you think.
Fitness tracker app Strava uses a simple three-step system to help you monitor and improve. Simply record you athletic activity using a compatible GPS device, upload the activity and view on Strava.com.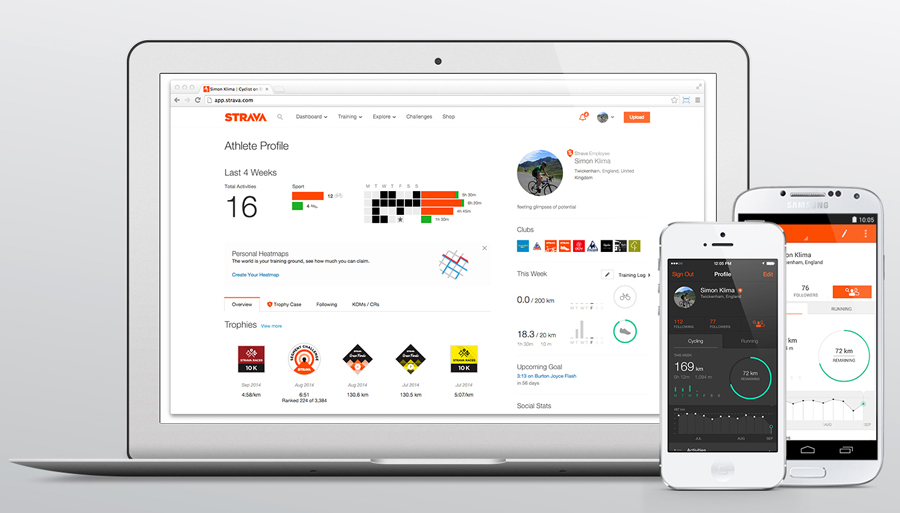 Describing themselves as a community, you won't feel alone in tackling your resolution this year; the app embraces social fitness where users can connect and compete, bettering themselves every day.
The blogs, professionals and #fitspiration
Next to devices and apps, blogs and social media is another great source of motivation and 'fitspiration.' For those who are new to the term, fitspiration has a huge buzz on social media and involves describing fitness inspiration on the likes of Twitter, Instagram and Pinterest. Personal Trainers, Gym-goers and general fitness enthusiasts can be a great source of motivation as well as general advice via these mediums and here are a couple of the best.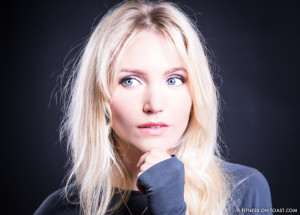 The Fitness on Toast blog from Swedish PT Faya offers motivational training ideas and great recipes and food inspiration to help you start and succeed in your New Year plan. Her Instagram and Twitter profiles are also laden with photos and tips to really help you succeed.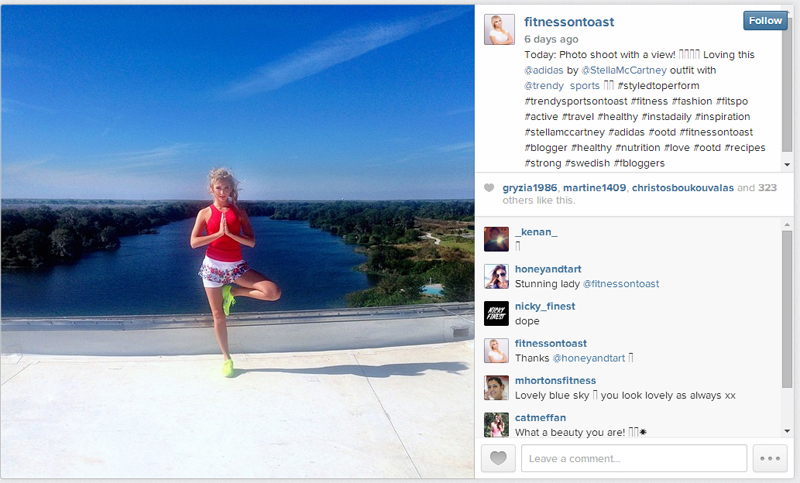 For the male role model, few offer the fitspiration level of Joel Snape, Associate editor of Men's Fitness and owner of the Live Hard blog. His posts may be hard to swallow if you are yet to pick up the dumbbells, but he certainly knows what he's talking about when it comes to male fitness and exercise.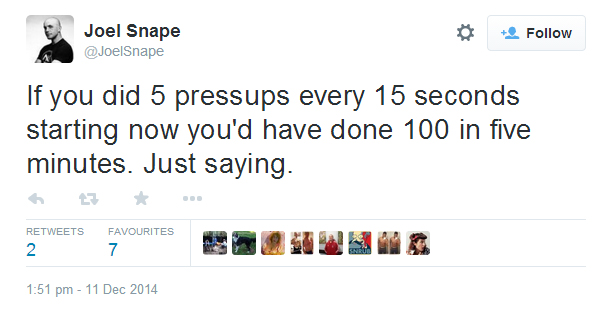 These are just a few ways to inject some fitspiration into your New Year's resolution this year, and while it can't beat general exercise and a healthy eating plan they can certainly help motivate and keep you from slipping off the rails come February. Just remember to make your fitness goals realistic for you; while training in a social media community and looking to the likes of Instagram for fitspiration can be motivating, everyone's fitness capabilities are different and you should work towards what is right for you and you alone, whether you want to tone up before a holiday or just want to improve your health.
Happy New Year everyone!
Image Credits: Fitbit, Garmin, TomTom, Endomondo, Runtastic, Strava, FitnessonToast.com