Bladder Cancer Awareness Month
May Is Bladder Cancer Awareness Month
The month of May is Bladder Cancer Awareness month. Show your support and help raise awareness this year.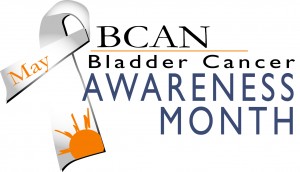 Each and every May is Bladder Cancer Awareness Month and there is plenty that you can do to show your support to this very worthy cause. Everything from Facebook pages to cancer awareness products are available to you so that you can be seen to be not only a supporter of the campaign, but also someone who is proactively increasing the public's awareness of this disease.
Your support will help to educate those who may not be aware of the dangers involved with bladder cancer and also give hope and support to anyone who is currently struggling with the disease. You'll also have a major impact on the lives of those who are helping anyone going through a tough time with cancer, such as loved ones and family friends, so your support is essential. In the UK, there is also an official Bladder Cancer charity: Fight Bladder Cancer.
What Is Bladder Cancer?
Bladder cancer takes hold when the cells within the bladder itself begin to grow faster than they would normally. The majority of bladder cancers are found on the inner layer of the bladder wall. However, on some occasions, bladder cancer can penetrate beyond that and grow deeper into layers found throughout the bladder.
As with so many ailments, bladder cancer is far easier to treat with early diagnosis as the illness becomes more difficult to fight once the cancer begins to grow through the various layers of the bladder. It is within the bladder's lining that the initial tumours normally begin and this lining is very similar to that which is found in the urethra, kidneys and ureters. This means that similar types of cancer are often found in these areas too, although they are much less frequently found than bladder cancer.
Symptoms
Blood in the urine is the most common symptom of bladder cancer, even though it is usually painless to the patient. Being pain-free, along with the shortness of the blood being found in the urine is what often leads people to not seek medical help fast enough so it is important to point out just how essential it is to visit your doctor whenever you experience such an episode, regardless of how brief it may be.
The Colours Of Hope
As with so many of the other great charities that do so much to help cancer sufferers and all of those close to them, Bladder Cancer Awareness Month has a specific branding that makes all of the products associated with the campaign easily recognisable. The marigold, blue and purple ribbon has come to symbolise the struggle and with slogans such as, "no one fights alone" and "hope", their message is clear.
Travelling With Cancer
Being sick with cancer or any other disease should not put people off of travelling, providing they have been declared fit to travel by their GP. While a lot will obviously depend on the individuals own personal battle, travel can help cancer sufferers relax and enjoy some time to recuperate and strengthen their resolve. Avanti Travel Insurance can provide cover for people with Pre-existing medical conditions . Taking out travel insurance for cancer patients will give not only the patient themselves great peace of mind but also their travelling companions, too.