Avanti's Guide to a Happy Flight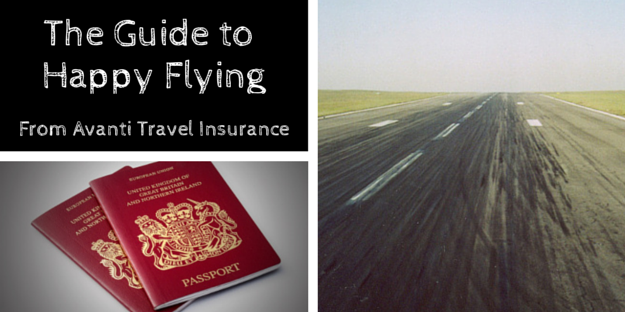 As more of us are keen to head further and further on our holidays, the usual consequence is a longer travelling period – with the bulk of that being spent flying. While some might dread the idea of taking to the skies, there are many ways in which the experience can be enhanced to help you arrive at your destination completely relaxed and refreshed.
Because we at Avanti wouldn't want to keep these a secret, here are some things you may want to consider when booking your next flight.
Booking Your Flight Use Route Happy for a Guaranteed Smile

Wouldn't it be nice to be able to search through the range of flight providers based on much more than just the price? Luckily for you, this is exactly what RouteHappy can provide, a company that is intent on keeping travellers as happy as possible while in the skies.
All you have to do is search for your flight and the results offer details on the price, the amount of legroom, the level of entertainment on board and the availability of a plug socket to charge your gadgets. All of these attributes are then collated to offer an overall happiness factor that is clearly displayed next to every flight – such as in the screenshot below.

Get the cheapest deal through Skyscanner
If you're at your happiest after finding the best possible deal, it's time to stop hunting around and head direct to Skyscanner. While the team at Avanti can help you get the best deal on your pre-existing medical travel insurance cover, Skyscanner serves as an independent expert on flight comparison, likening millions of flights to find the lowest price every time. Whether you're heading to Granada in Spain or Grenada in the Caribbean, they will not be beaten on cost and customers are always left with a healthy wallet.

As well as the flight comparison, they also conduct experiments into the attitudes of the British traveller to unveil exactly what we look for when we head on board. To learn more, head to their website today and check out their insightful infographics on studies they have created in the past.
How to make economy class more comfortable
If first class or business class flying is out of your reach, there are still ways of making the economy class flight an experience that's full of comfort. While you won't have the same amount of room, here are a few ways to help in your quest. Brendan Van Son, a travel photographer whose work takes him across the globe, suggests that consideration of clothing is key:
"Bring noise cancelling headphones and wear flip flops if possible.  The noise-cancelling headphones will drown out the noise of whatever is around you and allow you to watch that in-flight entertainment as happily as you would on your own couch.  And the flip flops?  Well, you can't take your shoes off during a flight, so just don't wear shoes at all. Maximum comfort."
What are your chances of getting an upgrade?
While we would all love to fly first class, the extortionate costs involved often mean that it's a choice that's completely out of reach. However, sitting beyond the curtain really is worth the extra cost, as Les from Boomerland Travel Tips explains. Thanks to a lifetime of business travel and an expansive collection of loyalty cards, Les and his wife Vee have been able to fly business or first class for almost 25 years.
While the days of a free upgrade are almost gone, here are his top tips to getting an upgrade from your economy for a small premium:
Arrive early and ask to put your name on the 'wait list'
If the flight is full, volunteer to give up your seat so that a family can sit together.
Ask if the carrier has a promotion – if there are open seats – you may be offered a discounted upgrade or be able to buy your way into the next cabin using air-miles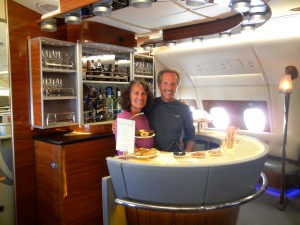 "Upgrades generally go to frequent flyers first – so be sure to sign up for the carriers travel reward card and try to stick with the same carrier. Longevity and distance both count."
If that fails – and you do end up in economy:
For a less bumpy ride – try to sit as close to the front as possible… you won't feel as much turbulence.
To cope with a multitude of temperatures on your journey dress in layers – with fabrics that breath
Avoid headaches, swelling and blotches by drinking plenty of water before and during the flight.
Les also recommends for travellers to check the benefits of their credit card; although it may not get you an upgraded seat free of charge, the chance to enjoy the executive lounge before you board is certain to help make the experience all the more enjoyable.
Fly in true luxury in a Singapore Airlines Suite
If money really is no object and you are unable to call upon the services of a private jet, it looks like the Singapore Airlines Suite is unrivalled. With your very own bed inside a cabin with sliding doors and window blinds, plus exquisite dining from some of the best restaurants in the world, there doesn't look to be a better method of taking to the skies.
The standalone bed is the first of its kind, a welcome change for some who are used to the seat transforming into a bed. As if this wasn't all, a member of staff will even come in and tuck you into bed whenever you feel like catching 40 winks. With prices for such luxury costing as much as £15,000, contacting Avanti to save on your over 60s travel insurance packages is certainly a good idea! To learn more about this incredible method of travelling, click here to visit Derek Low's blog where he documents the whole experience in great detail.
Image Credits: Routehappy, Skyscanner, Boomerland Travel Tips, ronfromyork (Shutterstock.com), Chris Eason (Flickr.com)