Avanti Aficionados – Ken Jones

First off we are featuring Mr Ken Jones of Preston, Lancashire.
Ken (79) is a champion table tennis player.  Since 1948 Ken has enjoyed ping pong.  He had a successful career in the printing industry and served two years in the army.  In fact, the only time table tennis took a back seat was when he and his wife were raising their four children.
Ken's grandson got the ball rolling again when Ken saw the little boy of eleven play at Ribby Hall, his local health club.  Now age 21 the grandson is still trying to defeat the 79 year old granddad!
The league at Ribby Hall is an internal affair based on four players per league. There are nearly 30 members, divided  into four players per league.   The players hold a monthly competition with the winner of each league moving up a league and the one who loses the most goes down a league.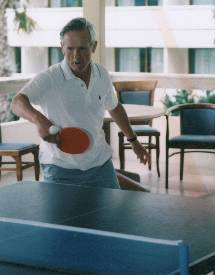 Although there aren't any prizes, Ken says it is great friendly banter.  Ken is the oldest one there, with the next couple being in their early 70's!
Ken and his wife Val love to travel and have played table tennis in Majorca and Halkidiki (pictured) where they 'battled'  against Germans, Russians, Greeks and other nationalities.  The couple have also played doubles games on cruise ships.  Ken and Val won a doubles tournament last year in the Caribbean.
Keep enjoying life's adventures Ken!