A 7-night cruise along the delightful Norwegian coast was just what was needed after the last two years of Covid. I was lucky enough to be invited along to review a new cruise line, and a new experience, exploring the picturesque fjords of Norway with Ambassador Cruise Line.
The Norwegian fjords are a great cruising destination because the sea day views are spectacular, especially from a ship the size of Ambience that can navigate the narrower waterways. The onboard experience of Ambassador's newly relaunched ship is very enjoyable, too.
Without further ado, here's my experience discovering the fjords of Norway with Ambassador Cruise Line.
Onboard 'Ambience'
There's a lot to love onboard Ambience. Despite being 30 years old, she's just been tastefully refurbished with elegant lounges, bars and restaurants.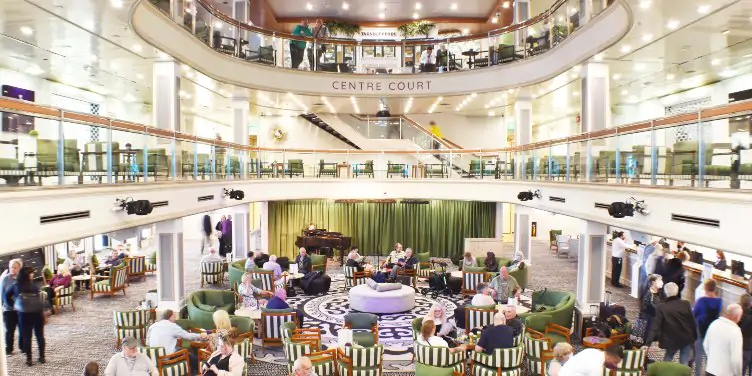 Centre Court
Boarding the ship, you enter the stunning three-story atrium reception on Deck 5, known as Centre Court. This is the hub of the ship and a great place to meet up with friends, enjoy a drink, or even book your next cruise.
A sweeping staircase takes you to the second and third floor of the atrium, where there's a shopping galleria with tempting gifts, leather goods and clothing from well-known brands like Joules.
Wellness Deck
Deck 2, Wellness Deck, boasts a fully-equipped gym and the relaxing Green Sea Spa, which offers a wide range of treatments and 'tasters'. There's nothing more indulgent than an hour or two of pampering on a sea day.
I sampled one of the taster treatments, a relaxing back, shoulder, and head massage – great value at £64 for the hour! Book appointments as soon as you can as I noticed the spa was particularly popular, especially on gala evenings.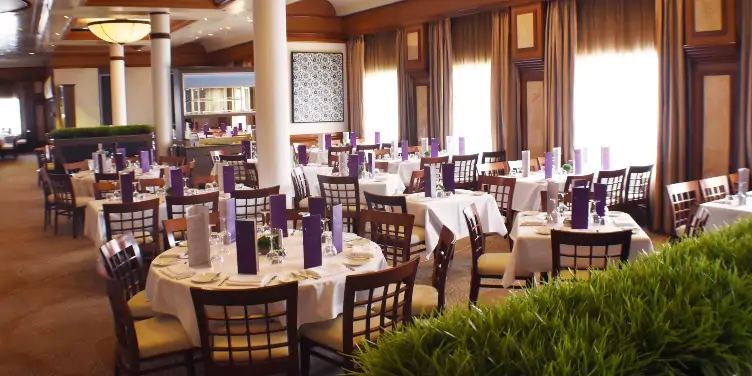 Dining and drinks
The main restaurant, 'Buckingham', is located on Deck 7, along with a choice of bars and lounges, where you can enjoy three meals a day with waiter service and varied dishes. The menu changes daily, and there's always a choice of meat, fish, and vegetarian with soup or salad courses and delicious dessert or cheese to finish.
The bustling 'Borough Market' is the place for more casual dining, and is home to a wide range of worldwide cuisines. The 'Alfresco Grill' is another great option if you want to relax and watch the world go by.
Like most cruise ships, Ambience also has a choice of supplementary fine dining experiences to choose from if you want to push the boat out. These include 'Saffron', home to authentic Indian cuisine, and 'Sea & Grass', where you can indulge in a seven-course set menu.
My pick for the whole trip has to be the two gala nights we enjoyed at Buckingham. There's nothing better than getting dressed up, enjoying an elaborate meal, and finishing things off with the popular cruise tradition – a Baked Alaska parade!
And if you fancy a tipple, there are no less than 11 bars and lounges, including the Purple Turtle Pub and the aptly-named Observatory, which is perfect for looking out to sea with a drink in hand. You'll find these venues host quizzes or other activities during the day, and live music in the evening.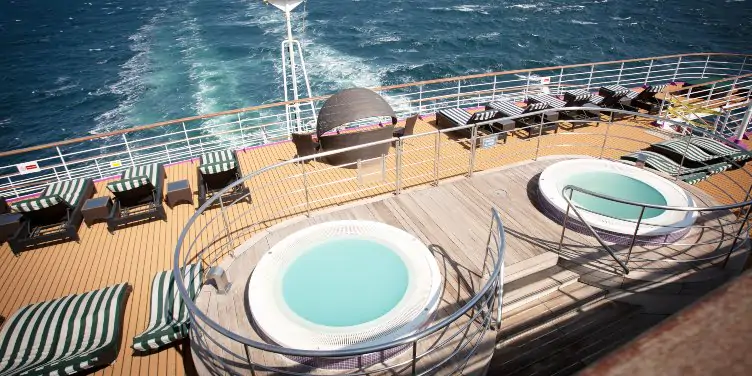 Space to relax
As you may expect, Ambiance has plenty of areas to relax and soak up the cruise experience.
Deck 12, Lido Deck, was a particular highlight with a vibrant area to enjoy the swimming and splash pools from a comfortable sun lounger. I didn't quite make it into the pool in April but was lucky enough to enjoy the sun on a couple of days. There's also waiter service from the Pool Bar and often live entertainment on the deck.
My favourite spot to enjoy some quiet time was a comfy lounger, sheltered at the back of Ambassador Deck (Deck 11) – a perk of Ambience being a smaller ship.
I enjoyed many an early-morning walk on the Sun Deck (Deck 14), appreciating the endless ocean views and taking in the freshest of air.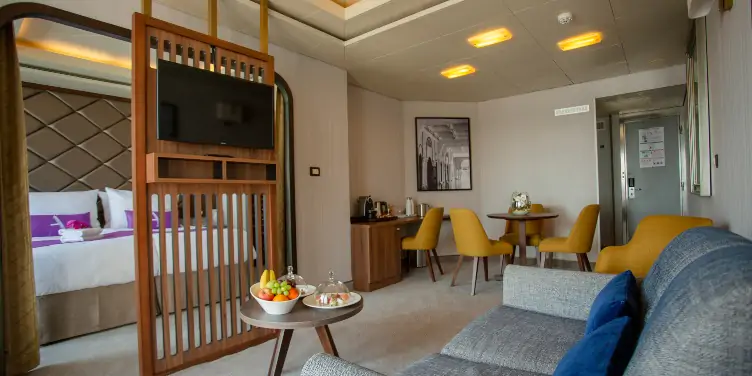 Cabin choices
Ambience has a wide range of cabin grades available, from inside standard right through to deluxe suites. I had a superior twin outside cabin on Deck 9 and found it very comfortable.
So far, only the suites have been upgraded with the remaining cabins scheduled to be modernised later in the year. While not as contemporary as the refurbished cabins, those remaining are spacious with ample storage, comfortable new beds, and a powerful shower.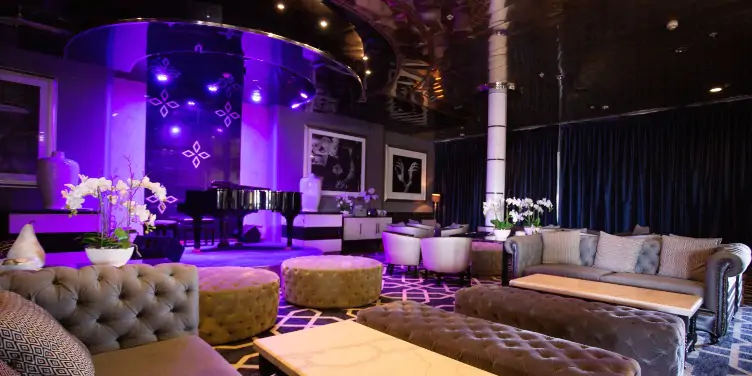 Entertainment
Evening entertainment takes place in the multi-tiered Palladium theatre, with two shows each night and waiter service to your seat. The programme was varied and of a very high standard.
I particularly enjoyed the musicals with their incredible song and dance routines. The talented comedian, Lloyd Hollett, also known as the Comedy Wordsmith, had me crying with laughter.
During the day, there was often a quiz in The Purple Turtle Pub, dance lessons on offer in The Observatory lounge or deck games taking place. I was soon in the habit of enjoying a pre-dinner cocktail in the Botanical Lounge while enjoying live music from talented classical musicians, Marina and Alina.
The daily newsletter had a long list of activities available throughout the day, but for me, nothing beats a sun lounger out on deck with a good book.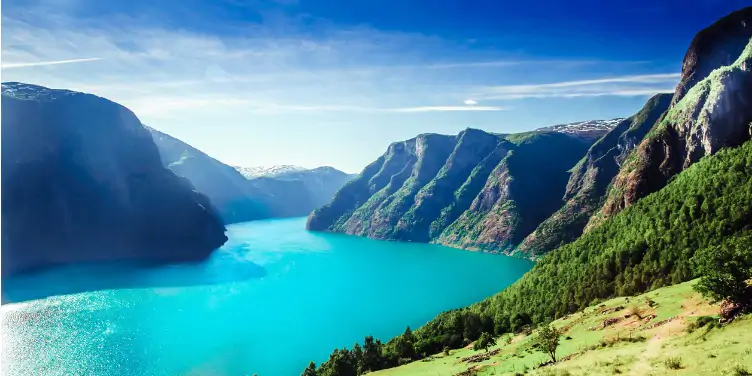 'Springtime Fjordland' itinerary
Ambassador has some exciting itineraries planned and Norway is always a favourite. I travelled in late April and was extremely lucky with amazing weather. My itinerary included two sea days and four ports of call.
Ambassador's shore excursions are known as 'destination experiences' and book up very quickly. There are options to suit all abilities with the '@ease' programme being exactly that, for those with limited mobility, or if you just want to take things at a slower pace.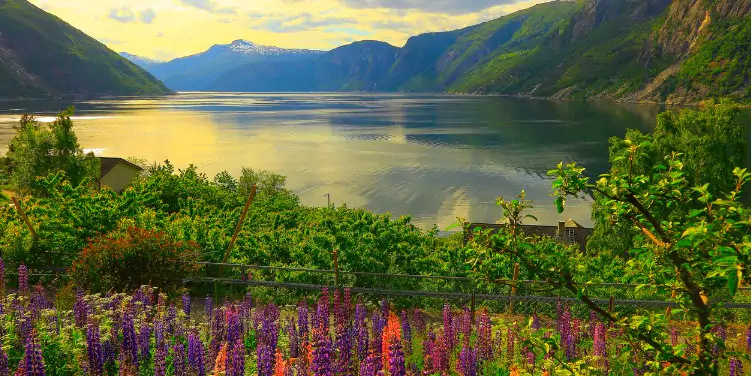 Gondola ride near Eidfjord
First on the list was the picturesque town of Eidfjord. We sailed into the fjord at first light as the sun was rising above low clouds. I watched in amazement as the sky turned a vivid blue with the snow-covered mountains reflecting in the water.
I wanted something a little more active, so chose to take the gondola ride from nearby Voss up to the Hangurstoppen Restaurant. Thick snow greeted us at the top. Warm coffee accompanied by waffles with cream and jam was very welcome as we admired the far-reaching views.
There was time on the way back to the ship for a quick photo opportunity at the famous Tvinde Waterfall.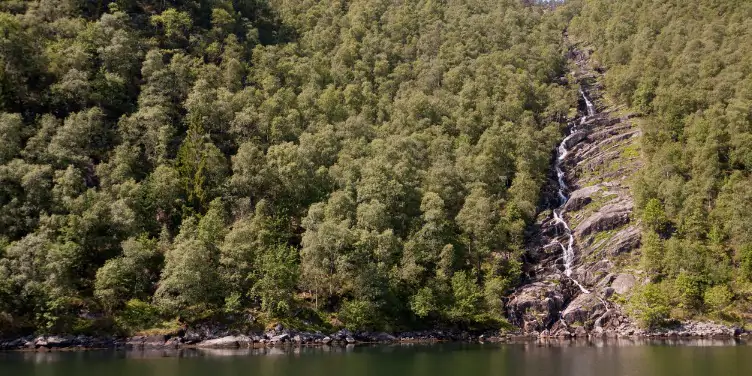 Cascading waterfalls along the Osterfjord
Bergen was our next stop. A vibrant city with lots of options for sightseeing. You may choose to just explore on your own, and as the ship moored close to the city centre that was an easy option.
I chose to transfer onto a smaller boat for a journey along the Osterfjord to a scenic hamlet called Mostraumen. The fjord became very narrow in places as the mountains towered above us and we passed several cascading waterfalls. Our wonderful weather stayed with us, and the excursion was spectacular.
Flam is well known for its scenic railway, and I took the train to Vatnahalsen where many passengers disembarked to enjoy coffee and more waffles at a nearby hotel. Our hiking group travelled to the next station and then disembarked to enjoy the six-mile walk back to the ship. It was quite challenging but very enjoyable, especially when a herd of goats decided to join us!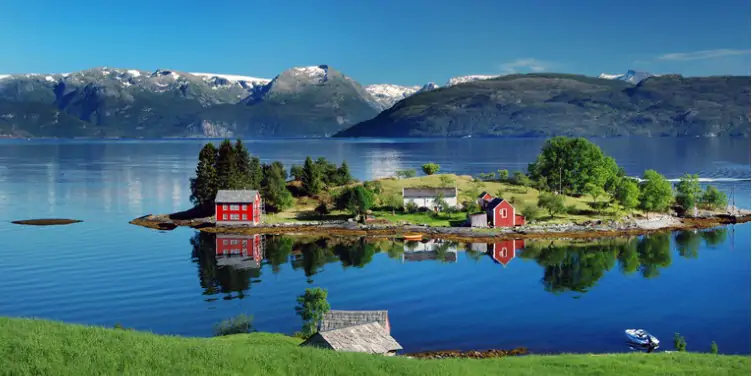 Hardangerfjord's rugged coastline
Far too soon we were arriving at our last port of call, Hardangerfjord. More walking for my group as we traversed a rugged coastline to the historical lighthouse at Ryvarden. The blue skies continued, and the views were incredible.
A highly-recommended 'premium value' cruise
Ambassador Cruise Line sells itself as a 'premium value' brand, and they certainly live up to that description. The prices speak for themselves as passengers have the choice between saver fares with few frills and add-on packages to accentuate their experience.
Sailing the Norwegian fjords on Ambience was the perfect cruise if you're looking for breath-taking scenery and a traditional ship with great food and friendly service.
Another advantage of Ambassador Cruise Line is that they set sail from a selection of regional ports across the UK, so there's no flight necessary!
If this has been the inspiration you need to book a cruise, don't forget to take out cruise travel insurance just in case the unexpected happens.