Activity Holidays to keep you fit
Activity breaks are becoming increasingly popular as people move away from the traditional sun, sea and sand.
There are many reasons for taking an activity break. Perhaps you are looking to be a little more active on your holiday because your day job is more sedentary. Alternatively you might be looking to take part in your regular activity but somewhere a little different.
Numerous studies have shown that activity helps keep the body healthier and as a result keeps us living longer. A few days activity once a year is not going to make a lot of difference but it may kick start a healthier lifestyle.
There are as many different types of activity break as there are activities. No matter how unusual your particular pursuit someone, somewhere, has designed a holiday around it.
I will look at three of the most common activity holidays, excluding wintersports which may well be a subject for a future post.
Kayaking
Kayaking holidays are a rapid growth area as people look for new activities to enjoy on holiday. Usually these are in organised groups with a qualified guide as it is important to have someone knowledgeable about water safety, local currents and weather conditions.
Accommodation can range from camping to local waterside inns or luxury lodges. Modern kayaks have plenty of waterproof stowage space so transporting your own supplies and kit is easier than hiking and cycling.
A little experience is a good idea and this can be gained in a local club before heading out. However, many of the companies offering kayak trips will spend time getting you acquainted with the techniques and equipment before heading out.
Kayaking is a great way to see things from a different perspective. At sea you may well encounter seals, dolphins or even whales. Along rivers there is an abundance of birdlife and animals as wildlife do not see kayaks as a threat.
Hiking
Hiking can take many forms. Ranging from flat and gentle rambles to rough, steep and challenging treks. You can either be based in one place and take circular walks each day or hike from A to B staying at a different place each night. With the latter option you can either carry your own baggage or have it transported ahead for you.
There are numerous long-distance paths across Europe and other parts of the world where this is possible. Often these traverse wild and scenic places are away from towns and cities or what we refer to as 'civilisation'.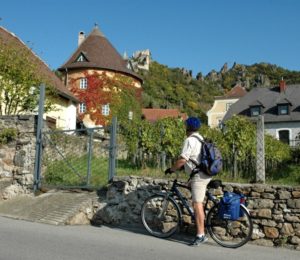 Cycling
Again this can take the form of a base from which you take circular trips or a point-to-point cycling trip with luggage on your bike or transported for you. If travelling with a group there will often be a support vehicle too.
The most popular are along dedicated cycle paths such as those developed by Sustrans, the cycling charity, in the UK. There is a network of designated European cycleways that cover most of the continent from Norway in the North to Portugal in the south and from Ireland in the west to the Balkans and beyond in the east.
Following rivers and canals using the old towpaths is a very popular way of travelling by bike across Europe. Rivers flow downhill and the paths beside them tend to be mostly flat. It is a great way of cycling through mountainous scenery without the effort of hill climbs.
For those who hesitate to take an activity break fearing it might be beyond their skill most mainstream providers have a grading system from easy, through moderate and difficult to extreme. It is important though to choose a level within your capabilities otherwise your trip can become an endurance test.
The three activities above are all inherently environmentally friendly and it is good to check the 'green' credentials of any operator you use. Responsible Travel have a range of activity holidays, including some not covered in this post. They have checked out the operators and only use those who are environmentally responsible.
Headwater Holidays are a company who specialise in cycling and hiking holidays but do have a few canoeing/kayaking holidays as well.
No matter what activity holiday you are going on don't forget to purchase your travel insurance before you go.
Gordon Lethbridge