Tampere is the largest inland city in any of the Nordic countries and offers plenty for travellers who enjoy staying active. Even better is that the list of activities changes throughout the year, as the summers are warm and the winters are so cold the local lakes freeze.
Just two hours' drive, and 30 minutes less by train, Tampere is easily accessible from Finland's capital, Helsinki. Tampere-Pirkkala Airport is also only around 20 minutes in the car from the heart of the city.
I've thoroughly enjoyed visits to the Finnish city throughout the year, so hopefully, you'll find my suggestions useful when planning a trip to Tampere.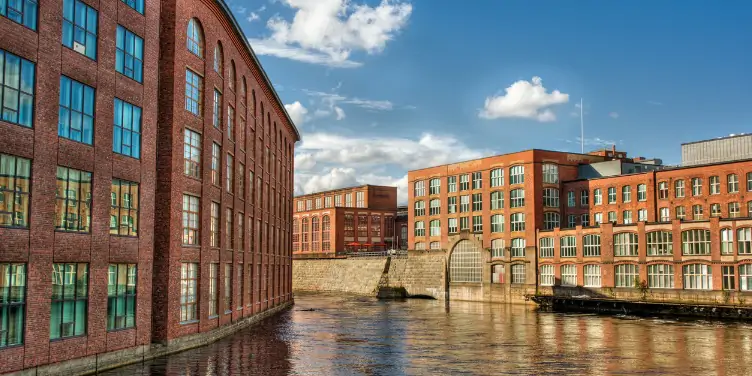 Attractions in Tampere
Whether other activities are rained-off or you just feel like relaxing, one of the best things to do in Tampere is to explore.
Museums in historic redbrick mills
The city's redbrick mills are a legacy of the industrial era, housing several of Tampere's principal tourism attractions. Scots entrepreneur James Finlayson constructed the mills that bear his name during the 1820s. They were powered by the water flowing over the Tammerkoski Rapids between the Näsijärvi and Pyhäjärvi lakes.
The Finnish Labour Museum Werstas tells the story of the region's industrial heritage and its impact on workers. It's the largest free-to-visit museum in Finland.
The nearby Spy Museum was the first of its kind in the world, detailing tradecraft used in espionage through the ages. Fun to visit, it exhibits artefacts secretly used during the Cold War era. You'll have opportunities to play with equipment rarely seen beyond books and spy films.
Largest market hall in the Nordic region
If sampling local food and drink sounds like your idea of fun, schedule a stop at Tampere Market Hall. The biggest market hall in any of the Nordic nations stocks a range of locally sourced products. Mustamakkara, a type of black pudding traditionally served with lingonberry jam, is one of the regional delicacies on sale.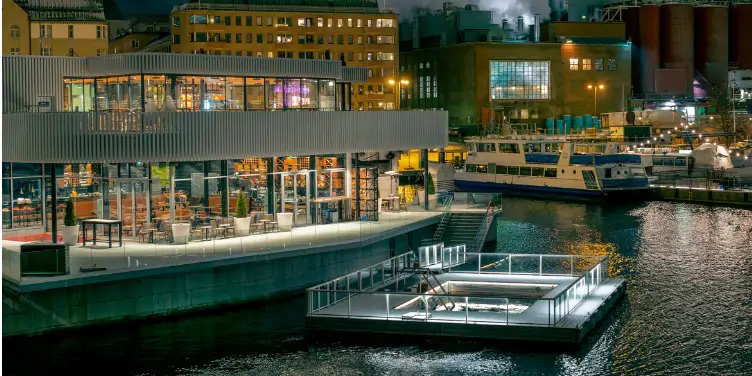 The sauna capital of the world
With more than 50 publicly accessible saunas and many others that are privately owned, Tampere is known as the sauna capital of the world. To participate, pack your swimsuit and remember to bring a towel to save on renting one.
Saunas draw visitors throughout the year and are a great way of unwinding. Stepping into a sauna means experiencing a traditional aspect of Finnish popular culture.
Several of the most-visited saunas are located by lakeshores, meaning you can take a cooling dip after enduring their heat. You can also find old-style smoke saunas in the region, including at Niemi-Kapee, a 45-minute drive north of the city, on alternative Sundays.
Arguably the most accessible of Tampere's many saunas is the Sauna Restaurant Kuuma. The new-Nordic style leisure facility overlooks the Tammerkoski Rapids, near Laukontori Square at the heart of the city. It offers state-of-the-art sauna facilities, a heated terrace overlooking the waterway and delectable, freshly-prepared Nordic cuisine.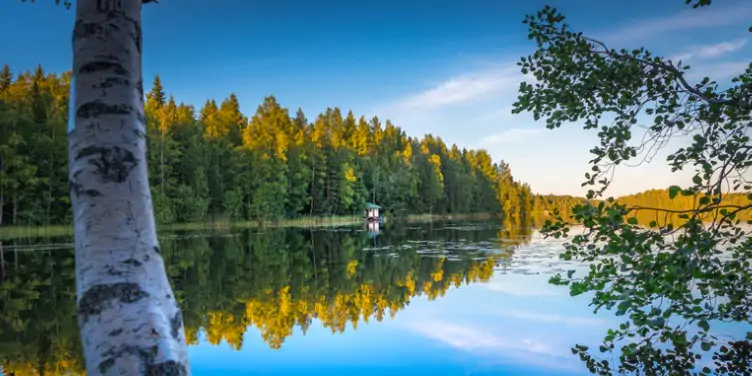 Summer activities in Tampere
The forest and lakes surrounding Tampere provide idyllic settings for a broad range of summer activities. If you enjoy paddling, kayak tours are a gently-paced way of exploring Lake Näsijärvi.
Fishing for even the most inexperienced
As I found, you don't need to be a competent angler to enjoy a day's fishing on one of Tampere's nearby lakes. Simply heading out on a boat, sipping a beer or two and watching raptors glide between tree branches is fun in itself. Yet the region's perch, pike and zander fishing is highly rated and guidance from a local expert should soon see you landing catches.
See the sights, on a boat or on foot
Sightseeing cruises are a way of experiencing local lakes without picking up a fishing rod. Prefer staying on dry land? Hiking and Nordic walking, which requires more physical exertion to swing the poles, are ways of traversing the woodland surrounding Tampere.
A little over an hour's drive from the city, you'll find easy circular routes and all-day trails in Seitseminen National Park. They include accessible routes designed for wheelchair users. Before setting out on a trail, pop into the Nature Centre to learn about the region's flora and fauna.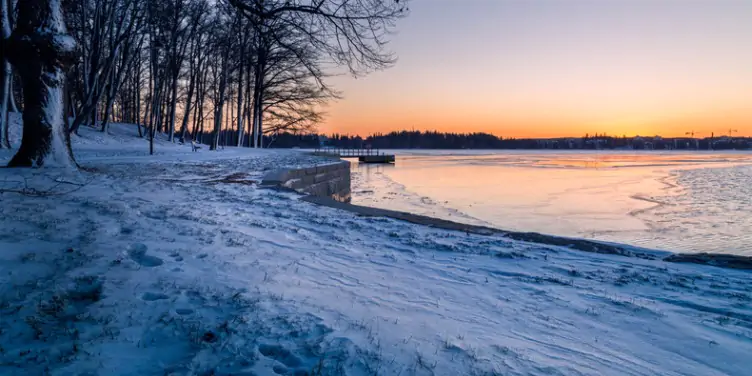 Winter activities in Tampere
Sub-zero winter temperatures cause lakes around Tampere to freeze, typically between November and April. Angling is only possible after drilling holes in their surface. If you have well-insulated clothing and plenty of patience, why not give ice fishing a go?
Guided cross-country skiing
Winter snowfall sees hiking replaced by cross-country skiing, an activity requiring good cardiovascular fitness and core strength. Learn the technique with local instructors before exploring the winter landscape around Tampere along its network of trails. Heading out as part of a group helps manage risk.
Snowshoeing in the local forests
By comparison, snowshoeing is relatively easy. Though cumbersome and more effort than normal walking, snowshoes enable you to walk on snow without sinking far. On sunny winter days, it's a means of appreciating the outdoors – including the fresh, pine-scented air of local forests.
Invigorating winter swimming
Normally, I hate immersing myself in cold water so was surprised to agree with the Finns who swear that winter swimming is invigorating. Some take just a brief dip in otherwise icebound lakes after a trip to the sauna. Others pull on a woolly hat to swim in a 25-metre pool cut from the ice then sit in a hot tub.
It's worth remembering that the activity is not recommended for people with heart conditions or high blood pressure.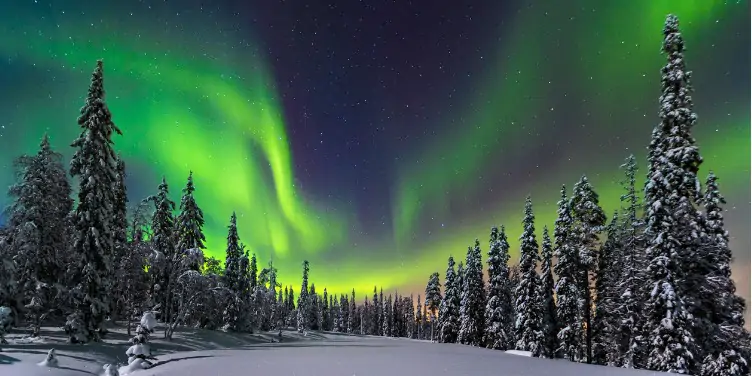 Viewing the northern lights in Tampere
Lapland may be one of the world's best destinations for northern lights viewing, but at 61.50°N it's also possible to see the aurora borealis in Tampere. Clear nights during the darker months of the year, from September to March, tend to be ideal.
Check the Space Weather website, indicating solar activity, and regional weather forecast for an idea if you'll see the phenomenon.
Head north of the city, to minimise light pollution, gaze northwards and be patient. With a little luck, you'll see the northern lights dance across the sky.
Read our policy wording for terms and conditions relating to sports and activities.