Volcanic eruption in Japan causes travel chaos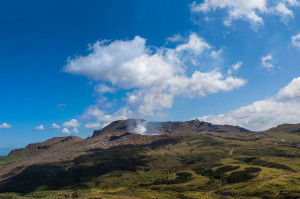 The Mount Aso volcano in Japan has erupted for the first time in over 22 years and this has resulted in huge travel chaos.
The resulting volcanic ash has meant flights have had to be cancelled and others have had to be delayed.
Mount Aso is located on the Kyushu Island and is approximately 625 miles away from Japan's capital of Tokyo, but after the volcano erupted for the first time since 1991 many holidaymakers travelling to the region have seen their travel plans affected.
Flights cancelled due to volcanic eruption
The eruption has caused lava, debris and smoke all to be released and clouds of ash have been released up to 1 kilometre into the sky.
This has meant that a number of flights from the nearby Kumamoto Airport have been cancelled by All Nippon Airways and Japan Airways because of the poor visibility in the area.
Luckily holidaymakers that have purchased annual travel insurance should be covered by freak events such as this, but others that have not taken out travel insurance may encounter some problems due to cancelled or delayed flights.
Channel News Asia reported that local residents had been warned by the country's meteorologists that stones and ash could fall on buildings within a one-kilometre radius of the volcano.
Back in 1991 the Mount Aso eruption caused chaos in close-by cities and towns as layers of volcanic ash settled on roads and buildings.
Mount Aso's outer rim is a popular area for hikers and other travellers to visit as it boasts beautiful walks and stunning scenery, but now these travellers are seeing their flights home or to somewhere else affected by the volcanic eruption.
Similar problems have been encountered by holidaymakers in Europe when the famous Iceland ash cloud affected thousands of British travellers' flights.
So if you are heading to Japan in the near future make sure that your multi-tip or single trip travel insurance package covers flight cancellations or delays for ash clouds as some meteorologists believe there could be more to come from Mount Aso.
Image Credit: Thilo Hilberer (flickr.com)