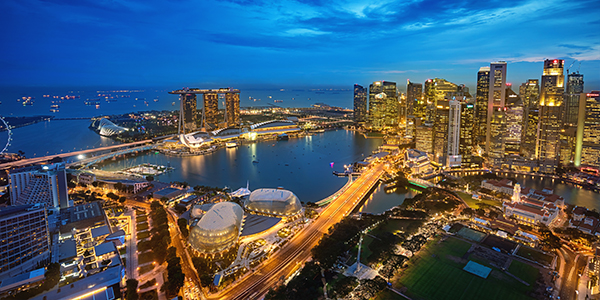 Singapore – A Different City Break!
Singapore is a gateway to some of the most incredible destinations in the world. A stopover for travellers from the west making their way to the tropical destinations of Southeast Asia and beyond. However, when my fiancée and I arrived in the city state we found that it was so much more than a stopover destination. We had so much fun in Singapore, it has so much to offer visitors in its own right. So, find out more about this amazing place and why you should consider it for your next city break.
Architecture
Some of the most striking architecture in the world can be found in Singapore, sometimes ridiculed by locals for being too futuristic, we found places with real 'wow' factor here. Singapore doesn't settle for average or just plain normal when it comes to architecture.

The Marina Bay Sands Hotel, instantly recognisable with its three towers and boat like platform perched on top, is amazing to see and explore. The observation deck provides incredible views and is a great place to enjoy a drink and plan your next move.

A Delight For Foodies
Singapore is a foodie's paradise and whilst it may be listed as one of the most expensive cities in the world, we found that you really can make the most of a limited budget. Culinary delights can be found from any corner of the world and across the full price range.
There has been an explosion of Michelin starred chefs opening restaurants here with the very best of fine dining available. At the other end, and something which Singapore is famous for, is the street food scene. Brilliant food markets called Hawker Centres are found throughout the city where locals gather and catch up with friends and family. Our favourite was in the Gardens by The Bay where so many types of international cuisine is on offer. We particularly enjoyed the barbecued satay chicken and beef.
Gardens By The Bay
An astonishing area opened in 2012 which includes the jaw dropping futuristic Super Tree Grove. Towering between 25 and 50 metres tall the colourful man-made super trees are like nothing else in the world. Huge columns with real plants growing up and around them with sprawling metal canopies which help to create shade during the day. These structures are breathtaking and the views from the walkway spread between them are not to be missed.
At night the trees take on another personality and are lit up against the night sky. There is a twice nightly light and sound show called Garden Rhapsody, which makes for a brilliant time to visit. You can easily spend a day in this part of the city and still not see everything. The flower dome here is the world's largest column free greenhouse with flowers and plants from all over the world. The cloud forest dome even contains its own man made mountain and waterfall!

First Class Hotels
If experiencing a luxury stay is your kind of thing, Singapore has you covered! Hotels such as the Marina Bay Sands, The Fullerton and Fullerton Bay will more than satisfy those who are used to very high-quality accommodation.
There are plenty of more affordable hotels available too, some of them really quirky and unique. We stayed at the Oasia Downtown Hotel, a tower building which appears to have plants crawling up and taking over the building. It was a brilliant place to stay – we were even provided with our own mobile phone which could be taken out with us around the city to make and receive calls as well as having a data connection and a city guide installed. For those who are used to using a mobile phone to help find their way around a new location or need a phone to stay connected with life back home this is really useful. It also can save you a lot of money, a wonderful idea!

So many people are heading to the Middle East for city breaks and with airlines such as Norwegian offering flights from London for under £200, Singapore is a great place to experience the culture of Southeast Asia in a city which does things differently! Who wants normal anyway?