RNLI Now Provides Sea Safety Courses For Children
Stay Safe In Open Water With Swim Safe 2015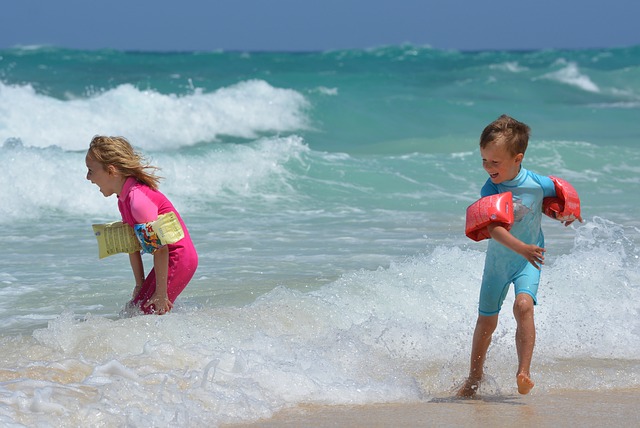 Open water swimming can be treacherous even for the most experienced swimmer, but many of the difficulties that people get into can be prevented with a little education. Thankfully, there is a new initiative by the ASA and RNLI that aims to provide just that.
Swim Safe 2015 intends to teach children and parents about some of the problems they may face when swimming in seas or lakes. It is hoped that raised awareness will help to bring down the statistic that one in five children experience some sort of difficulty whilst swimming in open water.
Knowledge Is Key
While local press reports of children falling foul of open water swimming are somewhat commonplace, many parents fail to appreciate just how demanding it can be. A staggering 26% of parents do not think that cold water will have any affect on their child's ability to swim as they normally would. The advice given by the RNLI is that any temperature below 15 degrees Celsius can indeed affect both your ability to move in the water and your breathing too.
42% of parents also believe that being able to swim in a pool constitutes enough experience to be able to swim in the sea safely. Furthermore, 9% of parents readily admit that they do not always supervise their kids when they are playing or swimming in the sea. These statistics have been released as part of the programme and it is hoped that the Swim Safe educational drive will go some way to improving the figures shown.
Learning The Difference Between The Pool And Open Water
Swim Safe first launched in 2013 and over 6,000 kids have gone through the free programme since its inception. One of the major points that they are made aware of is the vast difference between swimming in a pool and swimming in the sea. Both are great fun, but there are key differences that must be kept in mind whilst out in open water.
Anyone taking to the sea for the first time will not necessarily be aware of the dramatic affect that currents, wind, waves and temperature can have on their swimming capabilities. For children, this is especially true, and adult supervision is essential at all times.
Thanks to the salt water, even the density of the water is different. This means that the effort needed to swim in a pool will be different to that needed to swim in the sea. It is vital that anyone going into the sea for the first time is aware of these differences.
Staying Safe On Your Summer Holidays
Swim Safe 2015 is now in full swing as is the summer break that children up and down the country will be enjoying. Staying safe whilst enjoying open water swimming obviously extends to foreign waters as well as those at home.
It can be easy for parents to let their guard down whilst away on a sunny beach but it is vitally important that you remain vigilant whenever your child is in the sea. Having family travel insurance in place will also give you peace of mind should there be any need for medical assistance while you are away.
Where You Can Find Swim Safe
Each session lasts for around 40 minutes and is free for all who take part. You can take your child along to any of the following centres to teach them how to swim safely in open water:
Brockhole, Lake District
Sandhaven Beach, South Shields
Coastal Activity Park, Bournemouth
Bude Sea Pool, Bude
Fenella Beach, Isle of Man
Jersey Marine Lake, Jersey
You can learn more about swim safe on ASA's Swimming website.
Image Credit: Pixabay.com