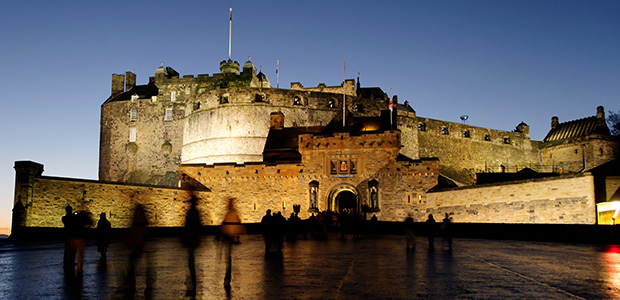 The Edinburgh Spirit of Winter
Edinburgh out of season conjures up ghostly castles, spooky alleys and haunted inns. Black magic is in the air, not just because this is the birthplace of Harry Potter. The city is a shrine to castles so I'm here to stay in a baronial castle and tap into the spirit of winter, from turreted vistas to offbeat trails, candlelit concerts and fireside feasts. This being Edinburgh, stronger spirits should be on offer, including a whisky master class.
It's already feeling Christmassy in wintry Edinburgh, a season that sees the ghostly city rise out of the mist. The seasonal lights are twinkling and the Scottish capital is building up to Hogmanay, the New Year's festival that showers the city in fireworks. For now, leaden skies reflect the sombre stone of Edinburgh Castle. Not that Edinburgh is doomy in winter – or only as delightfully doomy as you want it to be.  Given the chill in the air, castle-visiting should be leavened by the cosiness of afternoon teas and celebratory whisky-tastings.
At Edinburgh's Royal Botanic Garden the scent of roasting chestnuts fills the air and elves can be spotted scurrying into a wooded glen. No, I haven't spent too long over a dram of malt in the Scotch Whisky Experience. Christmas at the Royal Botanic Garden sees the gardens aglow along a mile-long illuminated trail. The trail unwinds in an avenue of fairy lights, embracing a `fire garden', a circular garden of flames, and `singing' conifer trees. Fending off the chills, we toast marshmallows over the fire and sip mulled wine and spiced cider. The botanical gardens, established in 1670, follow the seasons but even the harshness of winter has its own pleasures, such as Chinese witch hazel. I plan to come back another time to admire the tropical orchids and the towering palms in the grand Victorian glasshouses.
Some of the exotic specimens in the Royal Botanic Garden were donated by a trailblazing explorer who once owned Carlowrie Castle, where I'm staying on this visit. Isobel Wyle Hutchison (1889-1982) was a pioneering botanist, plant collector and the first female Arctic explorer. Isobel has left her mark on both Carlowie and Edinburgh. Isobel was always property-rich but cash poor, and lived frugally in order to fund her Arctic expeditions on snowshoes and sleighs. After the death of Isobel, the last Hutchison, Carlowrie passed to the Marshalls, who made the castle a family home once more and restored it to its former glory.

Carlowrie Castle – contemporary art not antlers
First impressions of the castle are magical: an avenue of sycamores culminating in a balustraded tower with a candle-snuffer roof. But beyond the Scottish baronial façade and Harry Potter parapets, this is a castle with a contemporary spirit on the edge of Edinburgh. Carlowrie Castle is about ancient crenellations without the ancient plumbing. This swish retreat is a shrine to Pop Art, with seductive bedrooms and decadent copper bathtubs. It's not one of those Highland estates with tartan and trophies – there are no scary antlers on the walls. Carlowrie can seem a contradiction, a Scottish baronial castle devoid of Scottish baronial art but subverting the Scottish castle stereotype is what it does best. Staying at Carlowrie Castle also offers insights into the mind of an assiduous art collector. Simply waltzing from the bedroom to the bar allows for a privileged private viewing of Pop and Urban Art. These artworks will linger in my mind's eye long after leaving, as will my gratitude to the adventurous Isobel. After a cocktail-making class at the arty bar, I allow myself to wonder what straitlaced Isobel would have made of the boisterous kilted mixologist. She would probably be grateful that cocktails help fund her beloved grounds, even if her ramshackle Carlowrie greenhouse has now been reborn as a romantic winter garden designed for weddings and events. Although there are no reported ghosts at Carlowrie, tonight I sense that Isobel's ghost would toast the future of her castle home.

A wee dram on The Royal Mile
Set at the top of The Royal Mile, the Scotch Whisky Experience is often unfairly dismissed as a tourist trap. Of course it's a shrine to the amber nectar but is also a crash course in Scotland's most famous export. The so-called Morning Masterclass is the best introduction to the wonders of whisky, even if, like myself, you don't consider yourself a fan. After coffee and Scottish shortbread, there's a private viewing of the world's largest collection of Scotch whisky. This is followed by a comparative tasting of a clutch of whiskies – one blend, one single grain and two single malt whiskies. Before the tasting itself, there's `the science bit,' in the form of a sensory perception test. We learn that a blend can be composed of fifteen to fifty single whiskies and that the secret also lies in the proportions of the blend. The `classroom' experience is more enlightening than daunting and reveals the aromas behind whisky and the secret messages between the drinker's brain, nose and palette.
Guided by the Master Blender, our noses gradually start to identify the aromas of malted barley and boiled sweets, along with a sense of honey hints, peatiness, nuttiness, fruitiness, spiciness and smokiness. To my surprise, I realise I do like certain whiskies, provided they're not too smoky. Grant's twelve-year-old blended whisky, with notes of honeyed malt and ripe apple, goes down only too smoothly. Afterwards, a comical but educational whisky barrel ride whisks us through the production processes of Scotland's signature drink. Yes, it does mean sitting in a moving barrel and whirling along happily before being decanted, slightly befuddled, on The Royal Mile.
 Edinburgh Castle
Set at the end of the cobbled Royal Mile, Edinburgh Castle dominates the city's craggy skyline. The castle always seems to be on your sightline, watching over the Scottish capital. A tour of Scotland's most famous fortress should take in the ceremonial treasures but also a few of the secrets linked to its military history. If short of time, focus on the fierce mood, as typified by the spiked portcullis and the setting itself, with the castle perched above an extinct volcano. For a sense of Scottish pomp, call into the great hall, completed for James IV in 1511. The hall is made for state ceremonies, with its original hammer-beam roof and an array of stained glass which commemorates Scottish kings and queens. Castle treasures include the Honours, the Scottish Crown Jewels, used during the coronation of Mary Queen of Scots in 1543. During the Second World War, the Crown of Scotland was hidden underneath a medieval latrine closet in David's Tower to prevent the enemy from discovering it. One military highlight is the Mons Meg, the celebrated siege gun, which was presented to King James II in 1457.  The gun's range of two miles was considered exceptional for its day. The overall sense of the castle is as a symbol of military might, from its beacons to its batteries. Ultimately, Edinburgh Castle, much like the city itself, is more fierce than fairy tale.
A load of cannonballs?
After a visit to Edinburgh Castle, Cannonball Bar makes a fine spot for drinking in the Old Town history. The view takes in The Royal Mile but you might be too focused on tasting some of the finest malt whiskies to notice. The evocative name, Cannonball House, comes from the gunshot lodged high in the wall facing Edinburgh Castle. Legend has it that in 1745, during the Jacobite Rebellion, the shot was fired by Government troops towards Holyrood Palace when Bonnie Prince Charlie was in residence. Mull this over while munching some Scottish Slow Food. The menu ranges from Scottish smoked salmon to sustainable fish and chips with beetroot and caper mayonnaise. More in keeping with the local history are the haggis cannonballs with pickled turnip, Glengoyne 10-year-old whisky and sea buckthorn orange marmalade. Christmas might have come early in Edinburgh.
Scottish shopping

Edinburgh is awash with kilts and kitsch but shopping is an essential part of the city entertainment. Multrees Walk may be the best spot for designer brands but for a more Scottish experience focus on the independent shops around Grassmarket and Victoria Street. Local author JK Rowling, best-known as the creator of Harry Potter, supposedly based Diagon Alley on Victoria Street, a moody, winding invitation to go back in time. This area, brimming with buzzing bars and restaurants, reveals everything from designer fashion to vintage finds, antiques, crafts and artisan food producers. Instead, on Princes Street, you can browse while taking in uninterrupted views of Edinburgh Castle. For a more bohemian side of the city explore West End Village, with quirky boutiques and bars tucked into the grid-like Georgian New Town.
While there, I'm torn between afternoon tea and a gin-tasting at One Square, where spirit-lovers can get to grips with juniper berries and botanicals. Surprisingly, for a city so closely associated with whisky, Edinburgh boasts a superb gin scene, with gin-tasting particularly popular with those who find whisky too overpowering. For now, I opt for a restrained afternoon tea but vow to come back for a Hogmanay ball, when Edinburgh explodes into the New Year.  There's a ball at One Square but even better would be to hire Carlowrie Castle, whose playful Pop Art spirit is more Miami or Manhattan than mainstream Edinburgh.
Castle dreams
Back in Carlowrie Castle, it's time for a frosty stroll before dinner. Edinburgh has more Michelin star restaurants than anywhere outside London so it could be a tough choice. Within walking distance of the castle is the charming village of South Queensferry, a genteel community in the shadow of Scotland's grandest bridges. The Forth Bridge, a Unesco World Heritage site, is both a railway bridge and a spectacular engineering feat. But it now faces stiff competition from its younger sibling. West of the village looms the new Queensferry Crossing, the longest three-tower, cable-stayed bridge in the world. The bridge is now the main route for vehicles travelling between Edinburgh and Fife. Exhilarating though the walk is, I return frozen. Isobel Hutchison, the previous owner of Carlowrie, had no central heating in the castle: luckily her frugal way of life has been erased forever but not her eccentric spirit.  Over a warming nightcap, the castle barman tells me about the `angels' share' –  a heavenly phrase that describes the small fraction of alcohol which evaporates from whisky casks during maturation. This is the true spirit of Scotland in winter.
Edinburgh on a plate
This is Edinburgh (city tourist board): what to do and where to go, from ghost tours to foodie fairs, fine dining and whisky experiences. The city is a Unesco World Heritage site and the shortest stroll soon proves why it deserves its status, www.edinburgh.org
Carlowrie Castle: wake up in your own Victorian castle on the outskirts of Edinburgh. It's also a contemporary castle, home to a dazzling Pop Art collection and a luxurious lifestyle fit for a true king of the castle, www.carlowriecastle.co.uk
Royal Botanical Garden: `Christmas at the Botanics', at Arboretum Place, is a light show running from late November to the end of December, www.rbge.org.uk
Scotch Whisky Experience: this is the best introduction to the wonders of whisky, even if you don't consider yourself a fan, www.scotchwhiskyexperience.co.uk
One Square Edinburgh: for a seasonal Scottish lunch, afternoon tea or a gin-tasting, call into the Sheraton Grand's inviting restaurant and bar, www.onesquareedinburgh.co.uk
Contini Cannonball Bar: this whisky bar serves over a hundred of the finest malts at 356 Castlehill, Edinburgh EH1 2NE, www.contini.com/cannonball
Only in Edinburgh: from Edinburgh's secret alleys to its dark detective trails, Duncan Smith explores the intriguing stories that bring the city to life. Even top attractions, such as Edinburgh Castle, are looked at afresh. See: www.onlyinguides.com