Avanti's guide to the best Airlines in the Sky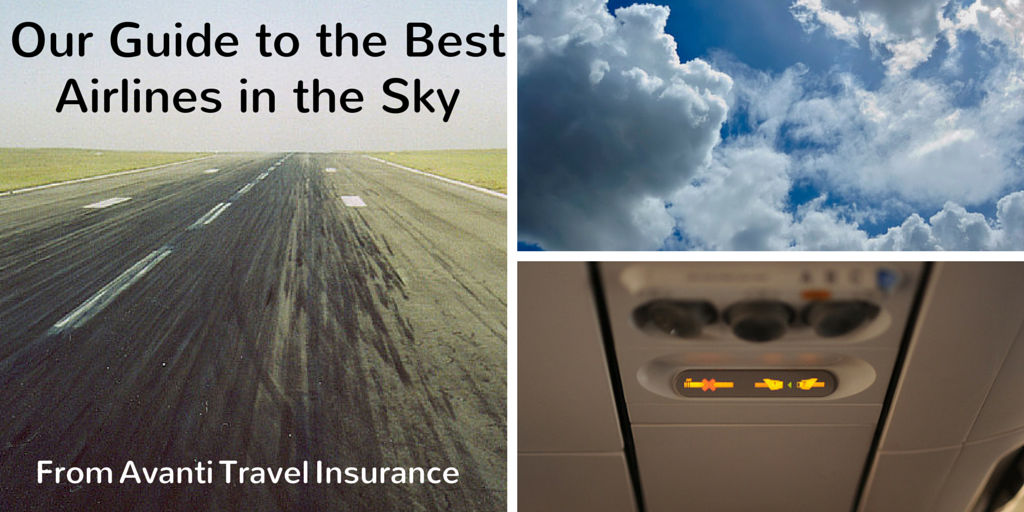 Air travel is today one of the easiest, efficient and affordable methods of travel available, it's hardly surprising that people all over the world are taking to the skies each and every day to head to their holiday destinations. With huge popularity comes a greater level of choice, and while finding a flight is unlikely to be a problem, the issue is often which airline you choose to travel with.
Fortunately, the team here at Avanti have given an introduction to some of the best airlines in the sky, a tool you can use together with our low cost insurance packages for over 60s and other ages to plan the perfect getaway.
Keen to fly for less?
Easyjet
Founded by entrepreneur Sir Stelios Haji-Ioannou, the vibrant orange tails of the Easyjet planes have become a recognisable sight in the skies above European airspace. Renowned for combining great value with efficiency, they operate more than 600 routes across 32 different countries – stats that help Easyjet rank among the largest low-cost carriers in Europe.
What's on the menu?
As you would expect from a budget airline, there is an additional fee for food and drink on board. From sandwiches and hot snacks to whiskeys and soft drinks, there's plenty of choice for the whole family. To view the menu, click here.
Ryanair
Taking the crown for Europe's largest low-cost carrier, Ryanair offers hundreds of services all over the continent – and there's even talk of the Irish firm travelling even further in the future. While some question the 'no-frills' service the airline offers, it's a no-brainer if you're looking to reach your holiday destination at an unbeatable price.
What's on the menu?
Ryanair also offer a food and drink menu, which is packed full of treats to keep you going on your journey. Click here to take a look.
Jet2
While not as well-known as the previous two, Jet2 provide great value flights from seven UK bases to popular sun destinations like Alicante, Majorca and Tenerife. With services regularly available at incredibly low prices, you can use the money saved to purchase a comprehensive medical travel insurance policy for your family through us – again for an unbeatable price.
What's on the menu?
From chicken and bacon sandwiches to a Mexican beef and bean chilli, the inflight menu from Jet2 is outstanding. There's even a little bottle of champagne available for those keen on travelling in style.
Looking for comfort?
British Airways
If you don't want to compromise space and comfort, but at the same time don't want a service that costs the Earth, British Airways is the name you can count on. The largest airline based on fleet size, international flights and international destinations, British Airways fly to destinations all over the world and aim to offer a fine flying experience at the best possible price.
Having operated in the skies since 1974, they know exactly what customers need for a worry-free flight; a good example is 'Paws & Relax', a new channel on board their long-haul flights where light-hearted footage of cats and dogs is used to calm the fears of those on board. Take a look at the video to clicking here.
What's on the menu?
While the previous three airlines all charge for food, British Airways provide complementary food and drink during their flights; you could be treated to a three-course meal depending on how long you're in the air. There are also four different levels of dining to choose from, each of which reflect the type of seat you have paid for in advance.
American Airlines
While you are unlikely to travel with 'America's Leading Airline' from the UK, it's certainly a name to consider if you're keen on exploring across the pond. Operating across North America, South America and the Caribbean, as well as connecting services from Europe and Asia, American Airlines has been an aviation giant since 1934. Among the most appealing aspects of American Airlines is AAdvantage, the largest frequent flyer programme in the world with over 67 million members, which allows people to redeem tickets, upgrades and discounts depending on the amount they fly.
What's on the menu?
American Airlines do offer a range of non-alcoholic drinks free of charge, but there is a premium cost for snacks and meals. Click here to learn more.
Virgin Atlantic
Another trans-Atlantic provider is Virgin Atlantic, the brainchild of Sir Richard Branson. The airline has gone from strength to strength since its launch back in 1984. As well as North America, you can use Virgin to travel to Africa, Asia and the United Arab Emirates. Also keen to consistently improve the customer experience, Virgin offers a host of additional benefits and services for all, as well as the chance to upgrade to a higher class.
What's on the menu?
Whether you're flying short or long haul, all food and drink is complimentary on all Virgin flights. Why not click here to view the menus for yourself?
Longing for luxury at 30,000ft?
Singapore Airlines Suite
If the sky is the limit in terms of budget, it really doesn't get much better than the suites from Singapore Airlines. An experience that will make many reluctant to leave, it offers passengers their very own haven of tranquillity, with exquisite dining options and an individual cabin with a full bed. As well as this, passengers get their own television screen, multi-port power supply and an endless supply of audio and video entertainment; to say it's a home from home wouldn't even be close.
What's on the menu?
While dining will provide a finer experience than even some of the finest restaurants in the world, customers can also pre-book their meal from more than 60 different dishes to ensure maximum satisfaction.  As if this wasn't enough, diners will eat their meals with exclusively designed Givenchy tableware.
The Residence from Etihad Airways
Offering a similar experience is The Residence from Etihad Airways, a bespoke travel option with limitless hospitality. Designed for two guests travelling together, it provides a cabin that has been considered by interior designers to offer the height of sophistication and style while in the sky. From a VIP Concierge Service to take care of everything on the ground to an inflight chef to craft beautiful meals on demand, it's easy to see why it's one of the most revered flying experiences available.
What's on the menu?
To offer the ultimate sense of choice in the skies, Etihad Airways offer an inflight chef for all passengers in the residence to use. It means that your dream dish is never too far away. Click here to learn more.
Use RouteHappy to plan your Perfect Flight
Although buying your flight from an airline directly is an option, it does mean that you are unable to compare your deal against other providers – meaning potentially that you could be making a bigger saving. RouteHappy is here to help, offering a comparison service that can be based on the kind of things that make you happy while in the skies. Whether you want lots of legroom, the accessibility to a plug or even on-demand entertainment, it provides everything you could need to find your perfect flight.
How do they compare?
Taking into account the things that really matter, we've collated all the services of the airlines featured into a handy chart for you to use in your endeavour to finding the perfect flight.
Reclining seats

Power Supply

On Board Entertainment

Complimentary Food

Complimentary Pillows and Blankets

Exclusive Lounge

Easyjet

No

No

No

No

No

No

Ryanair

No

No

No

No

No

No

Jet2

No

No

Yes

No

No

No

British Airways

Yes

No

Yes

Yes

Complimentary in business class. Also available in economy

American Airlines

Yes

In Business Class Only

Yes

Yes

Yes

Available

Virgin Atlantic

Yes

In Upper and Business Class Only

Yes

Yes

Yes

Available

Singapore Airlines Suite

Yes

Yes

Yes

Book your Cook Advance service

Enjoy a bed instead!

Yes, plus express check-in / boarding

The Residence

by Etihad

Yes

Yes

Yes

In flight chef can prepare meals

Enjoy a bed instead!

VIP Concierge Service included in cost
Image Credit: Edward Simpson, Simon Clancy, Chris Eason (Flickr.com)